Bangladesh Music Week
BBC Asian Network is celebrating the world of Bangladeshi music and shining a light on music and musicians from Dhaka to Tower Hamlets - old and new.
Schedule
Championing the project is the network's British-Bangladeshi presenter, Nadia Ali. She will be kicking off this special week of programming on her show on Sunday 1 December (8-10pm) with a range of guests including Bangladeshi singers, Topu and FA Sumon.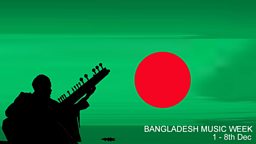 One of the highlights of the week is a visit to an East London school by presenter Nadia Ali and massive UK star, Mumzy Stranger, who will be talking to 14 and 15 year olds about how they got into their respective careers. Afterwards they will visit the music department, which has an amazing array of Bangladeshi instruments, and may even be doing bit of jamming.
 Throughout the week, a whole host of great names from the Bangladeshi music scene will be joining presenters live in the studio including Mumzy Stranger, Jernade Miah, Zoe Rahman, Runa Leila, Salique and many others.

| Date | Shows |
| --- | --- |
|  1st Dec | Nadia Ali kicks off Bangladesh Music Week with music stars Topu, FA Sumon and Tishma from Dhaka. |
| 2nd Dec | Tommy Sandhu is joined, live in the studio, by folk singer Sohini Alam and Bangladeshi singer Kona. |
| 3rd Dec | Nihal joins British Bangladeshi RnB singer Mumzy Stranger. |
| 4th Dec | Noreen celebrates Bangladesh Music Week with hit Bangladeshi singer Shireen Javed. |
|  5th Dec | Ray Khan catches up with Singer Shahin Badar in Mera Safar. Tommy is joined by RnB singer Jernade Miah. |
| 5th Dec | Bobby Friction is joined by the vibrant and highly individual jazz composer and pianist, Zoe Rahman. |
|  6th Dec | Yasser gets some lessons on how to be Bengali from YouTube phenonemom 'Ali Official'. |
| 7th Dec | Gagan Grewal kicks off the morning with Sitar-playing Shama Rahman. |
|  8th Dec | Gagan Grewal (6am-10am) speaks to singer Salique about his collaboration with Mumzy |