Filming Tigers about the House Series 1
By Beth Brooks, series producer
When the call came asking if I'd like to spend several months on the other side of the world filming some of the rarest tiger cubs on earth, my first response was - when do I leave?! The next thought very shortly after was - how do we film one of nature's most magnificent predators safely? And not just safely for us, just as importantly was making sure we didn't impact negatively on any of the tigers under Giles' care.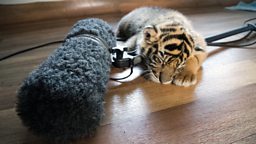 Spot loved sleeping on either us, or our equipment
I had to pinch myself at how lucky I was to be able to have such a unique and privileged experience

Beth Brooks
Tigers are sensitive to changes in their environment, and as we soon learnt from Giles, they like consistency. The 10 strong team of tiger handlers working at the zoo spend years building relationships with the adult tigers they look after; it's based on mutual respect, so we couldn't just have unlimited access.
The first big challenge was to film the birth of the cubs – amazingly Giles was planning to be there, because he wanted to be on hand in case things went wrong. He was able to do it because he and the cubs' mum Kaitlyn have a really strong bond. But it was out of the question for any of our small team to be anywhere close by. A tiger in the wild will do anything to protect her cubs, and Kaitlyn still has those wild instincts with strangers.
We used remote cameras mounted in her den, as well as small cameras clamped up above Kaitlyn. Giles and some of his brilliant team of handlers used handheld cameras to capture the moment too, and the result is stunning footage of a tiger giving birth, something that has never before been caught in such intimate and emotional detail.
Filming the cubs was an altogether easier undertaking in some respects. They saw us almost every day from birth to around 7-months old, and this meant they recognised us and were happy to interact. It was a lovely feeling to walk into the cub room and be greeted by the cubs 'chuffing' at us; a friendly verbal greeting which is the tiger equivalent of seeing someone they know and saying "hey there!"
As they started to grow they got ever more curious and playful, and sometimes that meant a cub trying to rugby tackle your ankles! Usually though it meant one of them climbing up onto your lap and having a snooze. It's moments like that where I had to pinch myself at how lucky I was to be able to have such a unique and privileged experience. Not your average day in the office!
Beth filming with Spot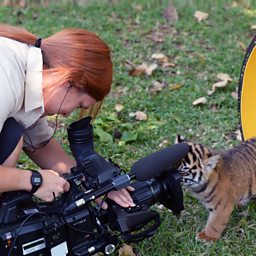 Spot liked to look at his reflection in the camera lens.