Getting started
What will you be doing on Saturday 12th November which you'd be happy to share on national TV?
We've produced a simple, straightforward guide to making a Britain in a Day film. It's full of easy-to-follow tips and suggestions.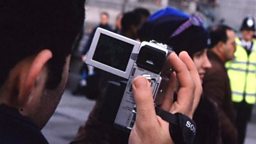 Britain in a Day booklet (PDF 1.8 Mb)
Llyfryn Diwrnod Ym Mhrydain (fersiwn Cymraeg) (PDF 2.1 Mb)
Ready to record your day? Then head to the Britain in Day channel to find out how Julia Bradbury and Dan Snow did it at youtube.com/britaininaday.
Interested in inspiring others to contribute to Britain in a Day? To help you promote your workshop, you can use one of these posters.
Empty belly poster – use this to write your own details in (1.3Mb)
Poster bol gwag – defnyddio hyn i ysgrifennu eich manylion eich hun (0.8Mb)
Britain in a day poster (5.5Mb)