The Ellissons Return!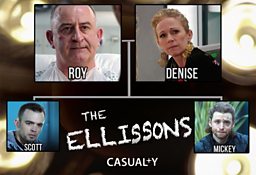 The Ellisson family are to return later in the Spring, but also with a couple of new faces...
John Killoran and Lucy Benjamin will return as the chilling Roy & Denise Ellisson. They will also be joined by Will Austin and Mitch Hewer (Skins) playing their son's, Scott & Mickey.
"I'm having such a wonderful time filming Casualty!" Mitch told us. "I'm very excited for people to meet Mickey and for them to feel the difficulties that he endures in his life. I'm ever so grateful for this opportunity; it really has been a fantastic experience."
Talking about Mitch Hewers character, Simon Harper (Acting Executive Producer for Casualty), said "I'm delighted to welcome such a high profile and gifted young actor as Mitch to the CASUALTY family and very excited about his story. We met Mickey's parents last year, but don't judge a book by its cover. Mickey isn't necessarily cut from the same cloth in his dealings with the CASUALTY regulars and there will be absolutely explosive consequences."
The ED team will see the arrival of the family in late April.