Tell us what you're doing!
Every year we're amazed by the thousands upon thousands of people right around the UK who get involved and organise fundraising events of their own.
Well we want to hear about what you're doing to help us! We're keen to hear all about your fundraising event - what's going to be happening, who's taking part, and where you're holding your event.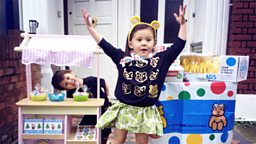 Whether it's a sponsored car wash, a school cake sale, a community jumble sale, or even an individual person running a marathon or doing a sponsored silence, we want to know about it!
And above all, we just want to say THANK YOU once again for organising your event. Every penny you raise goes to help support children and young people right here in the UK. You're amazing!
Contact us through social media
BBC Children in Need are active on Facebook, Twitter, YouTube, Instagram, Pinterest, Google+ and Vine. We've also got our very own iPudsey app! They are all great ways to keep in touch with us and to tell us about your fundraising activities and we can help you to promote them. Click here to find out more about our social media. To be considered for any local BBC TV and radio features, you must also email the appropriate address below.
Every penny makes a difference to children's lives right here in the UK. Thank you for your support