Book Club - Yellow Birds by Kevin Powers
Kevin will be on Drivetime from 1800 on Monday 10 September to talk to Simon about his book.
About the Book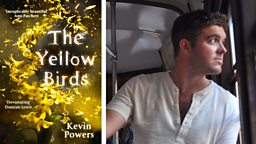 Everywhere John looks, he sees Murph. He flinches when cars drive past. His fingers clasp around the rifle he hasn't held for months. Wide-eyed strangers praise him as a hero, but he can feel himself disappearing.
Back home after a year in Iraq, memories swarm around him: bodies burning in the crisp morning air. Sunlight falling through branches; bullets kicking up dust; ripples on a pond wavering like plucked strings.
The promise he made, to a young man's mother, that her son would be brought home safely.
With The Yellow Birds, poet and veteran Kevin Powers has composed an unforgettable account of friendship and loss.
It vividly captures the desperation and brutality of war - and its terrible after-effects. But it is also a story of love, of great courage, and of extraordinary human survival.
About the Author
Kevin Powers was born and raised in Richmond, Virginia, graduated from Virginia Commonwealth University, and holds an MFA from the University of Texas at Austin, where he was a Michener Fellow in Poetry.
He served in the US Army in 2004 and 2005 in Iraq, where he was deployed as a machine gunner in Mosul and Tal Afar. The Yellow Birds is his first novel.
Photo of Kevin Powers by Kelly Powers.

Fancy a taster of this book?