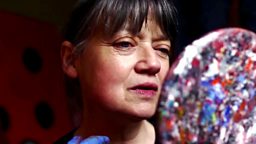 An intimate insight into the work of Shani Rhys James, one of Wales' leading artists.
Rhys James is an Australian-born artist who moved to London with her family when she was nine.
My studio is like a very calm space in which to do disturbing paintings
She studied Fine Art at Saint Martin's School of Art, London in the mid-1970s and settled in Wales in 1984.
The artist lives and works in a renovated 17th-century house and barn in Llangadfan, mid-Wales. Her studio space is filled with striking paintings, which combine domestic scenes with intense self-portraits often depicting powerful childhood memories.
This intimate film follows the artist as she prepares for an exhibition in Aberystwyth and captures her deep in concentration, at work on a new large oil painting.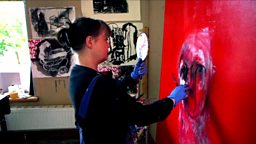 What Do Artists Do All Day?
Intimate, observational portraits of leading artists: BBC Arts has released selected films available on BBC iPlayer for an extended period
Art and Artists: Highlights
Edinburgh's Dovecot Gallery is hosting two major exhibitions as part of the 2015 Edinburgh Art Festival

An astounding photographic collection by 'Speedy George' Douglas

A sculptural mystery tour which takes in several of Britain's finest galleries

Just who was the man behind some of the most memorable artworks of the last century?

The extraordinary work of award-winning American photojournalist Steve McCurry

A major Tate retrospective of the British sculptor, and the dedicated museums in Yorkshire and Cornwall