Crime Board
THIS HAS NOW CLOSED
What is it with John Luther…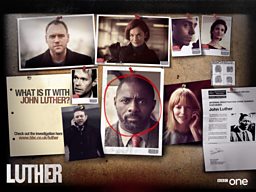 Luther is being internally investigated by a ruthless ex copper who's determined to make Luther answer for his past. Has Luther crossed the line and gone too far in his war on crime? Or have they just got him all wrong?
We'd like you to create your own investigation board for Luther using images from Season 1 and 2 that you can download from here and drag onto your desktop to open (file size 16.5MB). Plus you can add any imagery that you create yourselves, which capture Luther's past.
Who and what would you put on the board? What are the connections to Luther and to these crimes? Is there any evidence? Who else has something to hide?
Once you've created your investigation board, upload it to your own Facebook wall and tag the image with the @Luther Facebook page in the post.
We'll do the rest and share the best ones on the Luther website and on the Luther Facebook page.
Submission Guidelines
Use the blank Investigation board as your canvas and add any images from the Luther Investigation Kit and any original images that you create yourselves. It shouldn't contain third party materials, brands, or anything you haven't permission to use, this includes images of other people.
TIPS
By Facebook: Upload your images to your own Facebook wall and tag them with the @LUTHER facebook page in the post.
 JPEGs are ideal, but a PNG is also okay but no bigger than 3mb please and max 2048 pixels.
Keep it clean! No obscene, defamatory or pornographic content please.
We will publish your supplied name next to the Investigation Board Images in our online gallery unless you specify otherwise.
We take no responsibility for entries that are lost, misdirected and incomplete or cannot be delivered for any technical or other reason.
Any personal data submitted by you will be used solely in accordance with current UK data protection legislation.
DSU George Stark will stop at nothing to ensure Luther answers for his past.