A taster from the archive of the four featured works in The Royal Ballet's Ashton season
As The Royal Ballet celebrates its founder choreographer, Sir Frederick Ashton, with a mixed programme of some of his finest works, BBC Arts looks back at the four featured ballets:
Symphonic Variations, Scènes de ballet, A Month in the Country and Five Brahms Waltzes in the Manner of Isadora Duncan.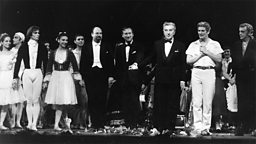 Sir Frederick Ashton with The Royal Ballet company in 1970, including dancers (l-r) Rudolph Nureyev, Margot Fonteyn & Michael Somes. Image: G.B.L.Wilson / ArenaPAL
Sir Frederick Ashton's first post-war work was both a homage to classical ballet and a response to the fashion for a more literary ballet repertoire.
Symphonic Variations is a single act ballet for just six dancers, in an abstract style and with a minimal set by Sophie Federovitch. The Russian-born designer worked with Ashton on eleven ballets, beginning with his first work in 1926; he described her as "my greatest artistic collaborator and adviser".
The music was composed by César Franck.
The original production in 1946 featured Michael Somes, Margot Fonteyn, Moira Shearer Margot Fonteyn, Pamela May, Brian Shaw and Henry Danton.
This clip is from a later production.
For Scènes de Ballet, Ashton devised geometric floor patterns for the dancers which can be viewed from all angles.
Ashton said "I wanted to do a ballet that could be seen from any angle – anywhere could be front, so to speak. So I did these geometric figures that are not always facing front – if you saw Scènes de ballet from the wings, you'd get a very different but equally good picture."
This production features Miyako Yoshida and Ivan Putrov in the lead roles; it was filmed in 2004 at the Royal Opera House.
A narrative ballet based on the play by Ivan Turgenev, A Month in the Country was was first performed by The Royal Ballet on February 12, 1976 and is one of Ashton's final works for the company. The stirring music is by Fryderyk Chopin, arranged by John Lanchbery.
The story is set in 1850, the year Turgenev wrote the play, at the country house estate of a Russian family; The narrative, which revolves around a series of domestic emotional entanglements, is driven forward by a series of pas de deux.
This clip features Lynn Seymour, Graham Fletcher, Denise Nunn and Anthony Dowell; the production was filmed in 1978 at the Royal Opera House.
Five Brahms Waltzes in the Manner of Isadora Duncan
In Five Brahms Waltzes... Frederick Ashton celebrates Isadora Duncan, a pioneer of modern dance.
Frederick Ashton had many influences, but the experience of seeing Isadora Duncan dance in 1921 stayed with him.
Ashton said, "she had the most extraordinary quality of repose. She would stand for what seemed quite a long time doing nothing, and then make a very small gesture that seemed full of meaning".
Tamara Rojo takes the role of Isadora in this production, filmed at the Royal Opera House in 2004.
More Frederick Ashton
In an exclusive BBC Arts film, friends and fellow professionals pay tribute and share insights into Sir Frederick Ashton and his work.

Dancer, writer and broadcaster Deborah Bull spent twenty years with The Royal Ballet. To mark its season celebrating Ashton, Deborah writes for BBC Arts on his life and work.

Francesca Hayward, a rising star in the ballet world, gives an exclusive performance of the signature 'Fred Step' - revealed in glorious slow motion.