Schools
There are lots ways for schools to participate alongside Stargazing Live this year.

National Eclipse Weather Experiment
Schools are invited to participate in a citizen science project, working with The University of Reading and BBC Learning. Professor Giles Harrison of the University of Reading's Department of Meteorology is researching a phenomenon called 'the eclipse wind' and wants schools across the UK to participate.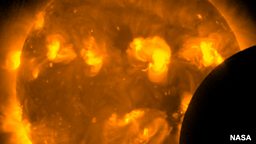 To do this we need lots and lots of meteorological data during the eclipse event – fortunately there are a lot of amateur meteorologists who could potentially help. Can you help us solve the mystery of the eclipse wind?
Live Lesson
On Friday 20 March the BBC are webcasting CBBC's Technobabble live into schools across the UK. Coming from BBC Learning's Stargazing Live event at Leicester Racecourse Marcus Bronzy and Vlogster will introduce Key Stage 2 students to coding and science.
The 40-minute lesson will explore how coding is essential to space exploration. Areas featured will include: programming with blocky, reviews of coding apps, using coding in space, and a fun look at how in the future the children could be booking their holidays in space.
The lesson will be accessible via this Stargazing Live website from 11am on Friday 20 March.