Nine England stars before they were famous
Were the England players always destined to be footballers? BBC Radio 5 live has been speaking to the player's family members, teachers and former coaches.
'I said, he'll play for England'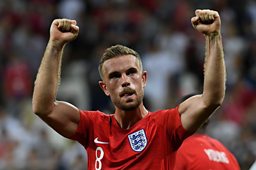 (Photo: AFP/Getty)
Kevin Ball is a former Sunderland player and was the U18's coach for Jordan Pickford and Jordan Henderson.
"It was a pleasure coaching them, and we knew they had fantastic potential. Now we're starting to see that.
[In the penalty shootout] When Hendo (Jordan Henderson) missed the penalty I was out in the garden. I said to my kids and my missus 'I can't watch this'.
When Pickers (Jordan Pickford) went in goal, I knew he would save one of them, because that's what his character is like. Each one that went in, he'd be thinking 'I'll get the next one'. It was nice for him as well, especially bearing in mind a little bit of criticism he'd come in for.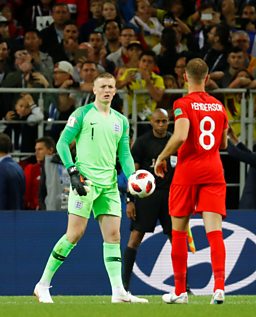 (Photo: AFP/Getty)
You knew with Pickers he wanted to get where he wanted to get as quick as he could, you knew he had that drive and ambition and ability. His route was going on loan all the time, and he wanted to be challenged.
With Henderson I actually said to our sports scientist at the time, 'he'll play for England'. And he looked at me and said 'I can see that as well'. And we never said anything to Jordan. But you could see it.
All coaches that have coached young players, they all become part of you. I felt [when I was watching] like I was an expectant father, pacing the floor."
'I realised he was an extraordinary talent'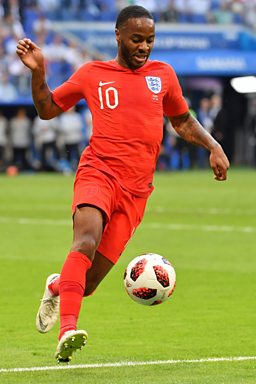 (Photo: AFP/Getty)
Raheem Sterling was taught by Paul Lawrence when he was eight-years-old. Paul is a teacher at Ark Elvin Academy in Wembley which used to be Copland Community School.
"His sister was at my school, and two years before Raheem came to our school I got his sister to bring him in to a couple of training sessions.
Raheem, even though he was two or three years younger than the guys we had playing for us, he ran rings around them and scored a few goals and made loads of chances. And from that first time I saw him, I realised he was an extraordinary talent.
Raheem had everything, he had a determination about him. He had great skills, great pace, great vision. Always looked to create chances, I used to say to him at times 'you need to be more greedy and go for goal yourself'.
Raheem has always been the kind of person that was very ambitious, he always wanted to be the best player he could be."
'He was poetry in motion'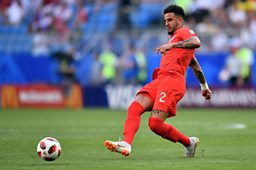 (Photo: AFP/Getty)
Eileen Hetherington is Kyle Walker's former head of year at High Storrs Academy in Sheffield.
"I knew him all the way through school. I first met him on the transition day, he was a very excitable, happy, buzzing little lad.
He was always a sporty kid, very talented, all-rounder, and a brilliant 800m runner, poetry in motion.
He wasn't arrogant at school, he wasn't strutting about, he was just a down to earth young man who enjoyed having a laugh with his mates. And that comes across very much so with this England squad, I don't know how they keep calm!
He's been back to the school [when he was playing for Sheffield United], pulled up in his nice little car and it was like the Pied Piper, all the kids were following him around everywhere. I saw him in the corridor outside the PE area and gave him a big hug, he was lovely.
Kyle was a little lad at school who dreamed of being a professional footballer, and we've got loads of kids of school who have that dream, boys and girls, and it's within touching distance.
Can you imagine Kyle coming back to High Storrs as a World Cup winner? Can you imagine?!"
'They've all gone Harry mad!'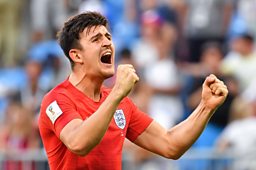 (Photo: AFP/Getty)
Harry Maguire's cousin Sophie Owens is a teaching assistant at his old school, Immaculate Conception Catholic Primary School in Sheffield.
"It's all gone out of control, they've all gone Harry mad! It's so strange.
To see him up there, doing his best, he looks so happy and comfortable with it all. We are, as a family, super-proud."
Headteacher Mary Emmott taught Harry in Year 6
"It's surreal, amazing, we're putting the TV on and Harry Maguire is there, who used to go to our school and I just can't believe it.
He was a good lad, he liked his maths and worked hard at it. Every time he went out at playtime, he played football.
We used to take them to tournaments, and Harry and his brother Joe, we did often win when they were playing together, and people would say "ah you've got the Maguire boys!"
We knew he was good but I never would have dreamt he would be doing what he's doing now.
He recently visited the school, and came in and said 'hello Mrs Emmett' as though he was still a child here!
Harry's cousin George Torr
"I think sometimes people have this misconception of Premier League footballers, they're flash people with lots of money, but that couldn't be further from the truth with Harry. Yes he plays football, yes he gets paid a lot of money for it, but the guy's passionate and the guy cares.
He's gone back to his old schools on his own accord - he goes because he cares and he likes to see the kids and he wants to inspire the next generation. And he tells the children, 'If I can do it then you can too.'"
'He used to look like he was playing in slow motion'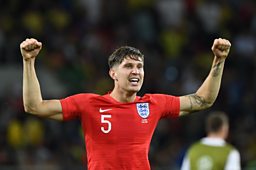 (Photo: AFP/Getty)
Paul Crook used to be John Stones' PE teacher at Penistone Grammar School in Barnsley - he's now the Principal.
"We did have a feeling about him – he was talented in many sports as well as football, rugby, basketball, athletics. He used to win the 100m, 200m, 1500m and high jump at our sports day
He was particularly talented, but he was always observing. I remember when he was back in year 7, and the year 11 football team was playing and we looked across the cold, dusty, dirty pitch on a December day, and we said 'who's this Year 7 lad watching the year 11's?' – and it was John.
We did see the talent early on, but it didn't come naturally to him, he had to work hard, he had to have a growth mind-set and a determination to always succeed.
He used to look like he was playing in slow motion, the amount of time that he created for himself.
Hopefully if they go all the way we might see John Stones walking back into Penistone Grammar with the World Cup in his hand!"
'I thought he was going to be a goalkeeper'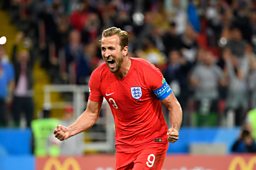 (Photo: AFP/Getty)
Dave Bricknell is the former chairman of Ridgeway Rovers in north-east London, where he met a six-year-old Harry Kane.
"We started a team up with the under 7s, and he turned up with a lot of other boys. It was a fantastic time.
We had a great little side, all the boys got on well together, and he was very very good.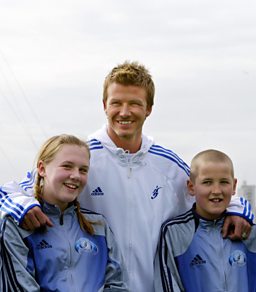 (A young Harry Kane with David Beckham. Photo: AFP/Getty)
When he first turned up I thought he was going to be a goalkeeper, but then he went on the pitch and scored lots and lots of goals. He could hit a ball very well, and when he was very young, he did stand out.
He wasn't the best player, but he's made himself the best centre-forward in the world. And that's down to hard work, a great belief in yourself, and a fantastic family behind you that's gone all the way with him."
'He'd take on lads far bigger than himself'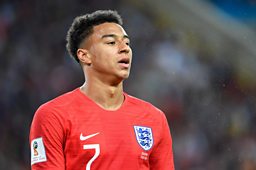 (Photo: AFP/Getty)
Ronnie Jamieson is the club secretary at Fletcher Moss Rangers in Manchester – where he met a five-year old Jesse Lingard
"I knew Jesse's dad Roy. He approached me and said his young lad was coming down for a weekend, and did we have any football he could get involved in?
Jesse was put in one of the lesser sides with him being so young. We did a couple of warm ups before the tournament and the guy was just unbelievable, he was doing things you'd pay to watch professionals do. He was outstanding.
So I thought it was worth bringing over Manchester United and getting them to have a look at him, and the rest is history.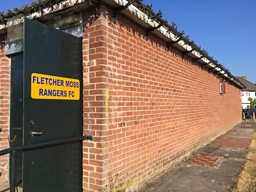 A lot of the thanks goes to his granddad who travelled from Warrington with him and put the time and effort into him as a small boy.
The thing you noticed is, he enjoyed his football, he had a smile on his face, a little cheeky lad, taking on lads far bigger than himself.
He had really big heart, nothing fazed him, and the skills he produced even at that age, you could see him playing at Old Trafford. He just looked so natural."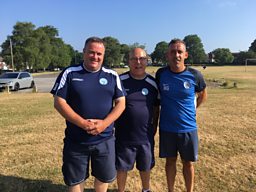 Coaches at Fletcher Moss Rangers L-R Neil Brown, Ronnie Jameson, Mark Gaynord
'I don't think he realised how gifted he was'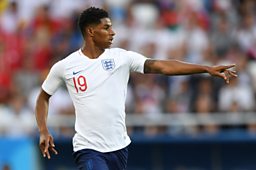 (Photo: AFP/Getty)
Mark Gaynord coached Marcus Rashford from the age of five to eight-and-a-half at Fletcher Moss Rangers in Manchester
"He was a pleasure to coach, when I'd do a drill he'd put another skill on the end of the drill I was doing.
This lad was just naturally gifted with a football and I don't think he even realised how gifted he was.
It's really lit my viewing of the game up watching Marcus – it's a mould of Marcus from when he was a boy.
He was always fast, always skilful, always really alert and aware of the pitch, he's just always been a humble lad as well."
Have you got a connection to an England player? If you've got a story to tell, tweet us using #myenglandconnection
Robbie Savage serves up the latest from the 2018 FIFA World Cup.

Adrian Chiles has been from A to Tsar to find out more about World Cup hosts Russia.