The Fourth Dimension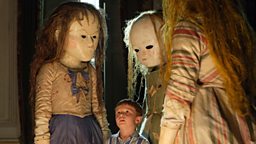 Night Terrors
The Doctor mentions Snow White and the Seven Keys to Doomsday. This is a cheeky allusion to a stage play called Doctor Who and the Daleks in The Seven Keys to Doomsday (also known as Doctor Who: The Seven Keys to Doomsday). The show premiered in December, 1974 and co-starred Wendy Padbury (Zoe in Doctor Who) as a companion.
Mrs Rossiter talks about going down the stairs like Sherpa Tenzing when she's chatting to the Doctor. Tenzing Norgay (1914-1984) is believed to be one of the first two individuals to reach the summit of Mount Everest / Mount Qomolangma. Find out more about Sherpa Tenzing.
The psychic paper makes a return! First seen in The End of the World, the psychic paper was used by the Ninth and Tenth Doctors and first employed by the Eleventh Doctor when he met young Amelia Pond in The Eleventh Hour.
The episode is written by Mark Gatiss (The Unquiet Dead, The Idiot's Lantern, Victory of the Daleks). This is his first modern day story for Doctor Who and one of its working titles was What Are Little Boys Made Of?
Jamie Oram, who plays George in Night Terrors, also features in the next Adventure Game, Doctor Who: The Gunpowder Plot, released in October, 2011!
At one point Night Terrors was intended to feature in the first seven episodes of the current series and included a moment where viewers glimpsed Madame Kovarian.
The business with the fridge in the scene where the Doctor and Alex discuss George was improvised by Matt Smith and Danny Mays.
At one point the Doctor says they're going to visit the scariest place in the universe. Steven Moffat (Doctor Who's head writer and executive producer), revealed that Mark Gatiss first raised the idea of Night Terrors by asking him what the scariest place in the inverse was, saying it was a child's bedroom.
Rory suggests the Doctor might be 'back there in EastEnders land'. In fact, the Doctor did visit Albert Square in the 1993 Children in Need Special, Dimensions in Time. The adventure also featured the Brigadier and Sarah-Jane Smith.
The episode is directed by Richard Clark who also helmed Gridlock, The Doctor's Wife and The Lazarus Experiment. The latter episode starred Mark Gatiss as Professor Richard Lazarus.
Every child is scared of monsters, but George's terrified pleas for help reach the Doctor. Because George's monsters are real.