Cysylltu â'r tîm
Rhaglen drafod materion cyfoes yw Pawb a'i Farn yn cael ei chyflwyno gan Dewi Llwyd.
Os hoffech chi awgrymu lleoliadau ar gyfer y gyfres nesaf neu banelwyr nad ydych chi wedi eu gweld, yna cysylltwch â ni ar 029 2032 2957 neu ebostiwch y tîm at pawbaifarn@bbc.co.uk.  Am docynnau i fod yn rhan o'r gynulleidfa, ffoniwch 01352 754212.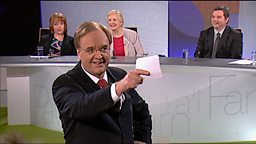 English
Pawb a'i Farn is a Welsh language Current Affairs debate programme. If you would like to suggest locations for the next series, contact the team on 029 2032 2957 or email: pawbaifarn@bbc.co.uk. For tickets to be part of the audience, ring 01352 754212.