Walking stick collection
The owner of this walking stick collection is the great-great-grandson of Jonathan Howell who ran a business making these walking sticks.
The business produced one and a half million sticks a year in 1893, before eventually going bust in the 1930s.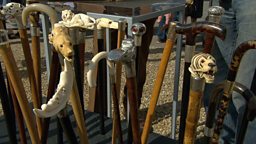 With the collection, there is an album from the late 19th Century that shows the factory in production and many of its designs. In fact, some of these designs are included on the walking sticks. For example, a cane with a silver shoe as the handle, a bulldog head handled stick, and one with the head of a lurcher as a handle. The latter two would be worth £1,500-£2,000 each at auction. The shoe walking cane is worth £1,000-£1,500. The collection here, consisting of approximately 30 sticks, is worth around £15,000-£20,000.
Did you know? In the 17th and 18th centuries, walking sticks were an important item of the male wardrobe and an indicator of social status.
Did you know? More than a mere aid to walking, antique sticks have served as weapons, accessories, and status symbols,. They have also been made of every conceivable material, including glass, shark vertebrae, and even African hippo teeth.
Get the app that lets you join in by guessing the values of items featured in the show.