Cooking With Kerry
Stephen Chisholm's Perfect Beefburgers
Makes 4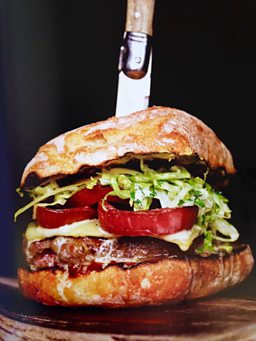 Patties:
450g ground beef
½ tsp salt and pepper
4 slices of mature cheddar (optional)
Assembly and Salad:
1 large head of Iceberg lettuce
1 tsp parsley, chopped
50g mayonnaise
2 tbsp olive oil
4 Ciabatta rolls, sliced into two
100g ketchup
25g Dijon mustard
1 large red onion or 6 pickled onions, sliced into rings
For the patties, mix the beef with the salt and pepper then form into four equal balls. Flatten each into round patties and chill until needed (at least 30 mins).
Heat your grill to medium-high. Place the leaves of the lettuce under the grill until they just char. Remove from the grill and shred then mix with the parsley and mayonnaise, set aside until needed.
When ready to eat, place the patties under the grill for 3-4 mins for medium rare and 5-6 mins for well done, on each side. Place the cheese on top for the last 2 mins.
Remove from the grill and keep warm. Drizzle the cut side of ciabatta rolls with the oil, then place under the grill until just browned. Mix the ketchup and mustard together then spread over the bottom half of the toasted rolls. Place the grilled patties on top followed by the onions, lettuce and the top half of the roll.