Sporting Day Out
5 live's Sporting Day Out
5 live's Sporting Day Out in Liverpool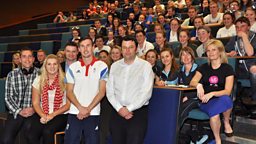 On Thursday 31 May more than 100 young people from Merseyside sports clubs, charity groups and schools took part in 5 live's Sporting Day Out – an event at Liverpool John Moores University which explored the empowerment of sport.
Attendees took part in fitness, sport and broadcasting activities; and discussed challenging subject matter in an interactive debate with Olympic athletes including Rebecca Adlington and Steve Parry.
In the Going for Gold workshop people could test their fitness by racing on a road bike and a rowing machine, while their strength was measured by leaping on a jumping mat. In the Human Engine Room, scans and ultrasounds were used to show people their heart and arteries on a big screen.
In the TV News and Sports Workshop, BBC staff set up a mock studio complete with autocue, lights, microphones and cameras. Each attendee had a part, whether in front of or behind the camera, to 'broadcast' a live programme.
Groups could also have a go at dodgeball, in a special outdoor workshop run by the UK Dodgeball Association.
The day culminated in an audience debate on the future of sport hosted by Olympic swimming bronze medallist and 5 live broadcaster Steve Parry, and featuring a panel including former Olympic champion swimmer Rebecca Adlington and Team GB Taekwondo star Martin Stamper.
Adlington said, "It is a nice thing that this has been an interactive experience because it is so interesting to hear other points of view and to find out how different factors impact people's experiences of sport. I often give talks and I think sometimes it can be a bit patronising, but this way get I got to hear from other people."
Paul Blakeley, 5 live managing editor, said, "Liverpool is one of the most sports-mad places in the UK so it seemed the right place for Sporting Day Out. I am proud of what we have achieved. We set out to do something to have an impact on young people in Liverpool and to build stronger links. We have achieved far more than we thought and to see the smiles on the young people's faces when they left and throughout the day makes it all worthwhile."