Rogue Traders: Meadow Vale Mobility Ltd
Meadow Vale Mobility Ltd is a mobility company based in Nottingham which is run by director Philip Hooley. It sells beds, scooters, chairs and other products that claim to help elder members get about. When you're selling products to the elderly and vulnerable you can't afford mistakes - because there's a lot at risk.
Helena Ellis is 93 and suffers from vascular dementia. She told her daughter Wendy about a man who visited her sheltered accommodation and who charged her £1,400 for a ripple therapy mattress. Wendy does not believe her mother understood what she was buying. Wendy thinks that her mother just wanted the salesman out of her house and buying the product was the only way she thought she could do it.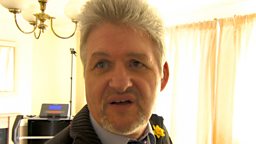 We know about plenty of other complainants too. Like nurse Lisa Winn whose great Aunt Peggy was suffering from dementia when a Meadow Vale Mobility representative called. Lisa told us that it would be evident to anyone walking into her great aunt Peggy's property at the time that she was an elderly lady that clearly wasn't coping.
Peggy also suffers from arthritis and Meadow Vale Mobility claim the therapy mattress they sold her can help reduce pain. She later changed her mind, refused delivery, and tried to get her money back. But a year on she's still waiting for a refund.
And she doesn't seem to be the only one.
Meadow Vale Mobility Ltd have 21 outstanding county court judgments against them for more than £64,000.
So we decided it was time to see Meadow Vale Mobility in action. Our actress Liz gets a visit from Meadow Vale Mobility representative Lonnie Mansell. Liz claims to be suffering from painful arthritis and like a lot of the customers we've heard from she too gets confused.
We invited expert Maggie Winchcombe OBE an occupational therapist with more than 20 years' experience to cast her eye over what went on.
Maggie and Matt Allwright watch and listen in horror as the representative Lonnie describes the power of the company's product. Actress Liz tells Lonnie that she uses statins to manage her cholesterol levels and he responds by saying "that's one thing you'll reduce straight away".
Expert Maggie Winchcombe explains that she thinks it's, "…extraordinary. How can a massage therapy unit reduce cholesterol levels. Statins aren't prescribed lightly, to suggest they could be reduced or should be reduced is potentially quite harmful…"
Our actress now says she's on the drug Warfarin for a blood clot - a condition which should rule her out of a vibrating product. But acting confused she says she can't remember when the blood clot developed. And what is Lonnie's response? Simply plough on with the sales pitch.
Maggie explains, "He's just ignoring her confusion. Confounding her with more information and more questions. That to me is not an ethical way of selling anything."
Following this epic sell Liz opts for a ripple therapy chair. But then Lonnie reveals that it will cost £2,300 for a bespoke model or we could pay £1,840 for an-off-the-shelf model with no therapy in it – which seems like it would be just an ordinary chair.
After a whole 2 hours 11 minutes and forty seconds Lonnie's gone again leaving us confused and baffled. So we decide to call out another Meadow Vale Mobility salesmen – Russell Ounsworth who describes himself as the company's sales manager.
We've brought in a second actor called Jim who also claims to have arthritis. As Russell starts trying to sell us a vibrating mattress we begin listening to the same old exaggerated claims.
Russell is emphatic that the product will help the pains Jim's experiencing. During the visit he says the unit can take pain away a staggering 25 times faster. He then claims that the pulsation in the unit is working on the muscles and the joints, giving our actor Jim the same benefits as exercise.
Reading from Meadow Vale Mobility literature Russell tells Jim that the ripple therapy system will - decrease inflammation, increase mobility, provide a greater joint and flexibility range of motion, improve circulation, strengthen the immune system and promote speedy recovery from injuries.
"I think it's an unbelievable list of benefits he's saying – all unproven there's no clinical evidence to say that's the case at all," says Expert Maggie Winchcombe.
So that's a definite verdict from Maggie. And we've since spoken to seven other experts who all agree.
Not only that but according to Russell the product has official endorsement from the Salisbury NHS Trust at Wiltshire. We've since checked with the Salisbury NHS Foundation Trust. It says it did carry out pressure tests on a similar mattress to the one sold by Meadow Vale Mobility but it never tested it for arthritis sufferers. Nor tested any vibrating elements. It says Meadow Vale Mobility Ltd has no authority to make any reference to the tests carried out by the Trust or to use the Trust's name as an endorsement for its products.
So we decide to close in on Meadow Vale Mobility and call sales manager Russell Ounsworth out again – who spent a whopping 3 hours 20 minutes and 15 seconds trying to sell a vibrating mattress to our elderly actor Jim.
When we confronted Russell he insists that he does his job properly and that he's done nothing wrong. Russell maintains that the product gives the benefit of exercise and insists that he conducts sales as honestly as he can. He maintains that he does not take advantage of anybody and that he goes in and helps the people.
Company Response
Russell Ounsworth says he has never knowingly used information which he believed to be untrue and that during a 40 year sales career his character and sales practices have never been questioned. He says he was trained by Meadow Vale Mobility. Lonnie Mansell said the medical claims he made were all taken from reading the Meadow Vale Mobility literature. He has limited medical knowledge and he says he didn't know what statins were. He says the only thing he is guilty of is taking Meadow Vale Mobility's claims at face value. He now no longer works for the company. As for Meadow Vale Mobility Ltd they say they make no definitive claims that the system will alleviate pain, and that they have numerous examples of clinical studies that support the benefits of their massage system.
Elsewhere on BBC Watchdog
Find more reports on rogue traders that the team have been hunting and confronting for giving customers a raw deal.