"After years of patient investigation, the real stories start to emerge..."
Archaeologist Julian Richards discusses why he decided to revisit some of his favourite 'Meet The Ancestors' digs...
It's always fascinating (and one of the reasons why I became hooked on archaeology) to see finds emerging from the soil. But this is just the start of the process - it's only much later, after sometimes years of patient investigation, that the real stories start to emerge.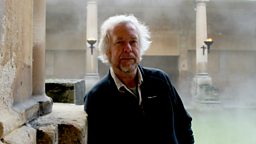 So when I was given the opportunity to revisit some of my favourite 'Ancestors' digs more than a decade on, I jumped at the chance. It took me back to the remote past, to the Neolithic, and also to Iron Age, Roman and Saxon times.
Wetwang in Yorkshire was where I got involved in the excavation of a rare Iron Age chariot burial, easing assorted bits of rusty iron and corroded bronze from the sticky soil that filled the huge grave. But what had happened to both the site and the finds over the last decade?
I headed to Yorkshire, re-united with the old white Land Rover, itself now almost an archaeological artefact and even more noisy and draughty than I remember it. What had then been the excavation site, a large tent in the middle of a sea of mud, is now 'Chariot Way', a neat housing development complete with commemorative plaque.
The finds too have changed. At the British Museum the iron and bronze have been cleaned and conserved and the true beauty of the chariot and harness fittings can now be appreciated.
What I found amazing were the tiny clues that had emerged from the rust and corrosion. A repair, originally invisible, showed that the harness was far from new and traces of fur showed that an iron mirror had perhaps been wrapped in the skin of an otter, a strange animal, perhaps sacred to the Iron Age people.
Revisiting all the sites – the ancestors that were buried in them, the archaeologists and scientists who have studied them, and even the old Land Rover – has been a wonderful experience. It proved to me that there is always more to learn from finds that were excavated ten or even a hundred years ago.
And who knows what other secrets will have emerged if I go back again in another ten years?
A collection of programmes charting the BBC's first ventures into archaeology programming.