Vic Galloway – 25 Scottish Artists to Watch in 2017
It's crystal ball time folks… Yes, every year I try to get a wee bit ahead of the curve and tip off a few Scottish acts who will hopefully have a bright musical future and establish themselves further on the local, national and international scenes. Of course, there are many more talented peeps out there just now and I hope to make loads of new discoveries in the next 12 months too…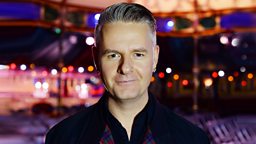 But here goes with a list of 25 new acts for 2017 with music across genres – indie, rock, pop, electronica, acoustic, hip-hop and experimental. Search them all out and help them on their way!
In alphabetical order:
1. And Yet it Moves
2. Ava Love
3. Bloodlines
4. Boohoohoo
5. Callum Easter
6. Chrissy Barnacle
7. Domiciles
8. Edwin Organ
9. Foreignfox
10. Hamish Hawk & the New Outfit
11. Indigo Velvet
12. Isle
13. Kvasir
14. Lully
15. Lylo
16. Noah Noah
17. Posable Action Figures
18. Rituals
19. Sam Gellaitry
20. Scholesy
21. Shogun
22. Skjor
23. St. Martiins
24. The Ninth Wave
25. Wuh Oh
Hopefully we'll see a lot more from acts I've tipped in 2016 and before too… Keep an eye for: Be Charlotte, Bossy Love, Breakfast Muff, Catholic Action, JR Green, Man of Moon, Miracle Glass Company, Mt Doubt, Neon Waltz, Pronto Mama, Sacred Paws, Spinning Coin, Stillhound, Sweaty Palms, The Van T's, The Vegan Leather and Yip Man (my first session guest of 2017) amongst others.
Keep listening in to the shows and podcasts… and have a great 2017!
Vic xxx
Vic Galloway – A Festive Fifty - My Favourite Albums of 2016