Actor Janet Dibley has just written her first episode for Doctors.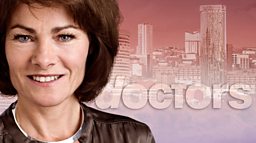 Actor Janet Dibley who played Dr Elaine Cassidy in Doctors for two years has just written her first episode. Here are her musings!
I was a year into playing Dr Cassidy and immersed in the hectic world of BBC Drama, Birmingham and Doctors when I admitted to myself that I really wanted to write for the series.
Acting in Doctors had been a revelation. It's very different from other drama's. For one, the production and post production team are all housed under one roof. It's a small building crammed with a lot of talented creative people - Editors, researchers, art department, makeup and costume, designers, scheduling, post production, actors – all spread out along three floors, sharing the same tea urn at the end of each corridor. Often as an actor in television you can feel isolated and separate. You are politely escorted on to set then back again to your dressing room. In Doctors, it's different. Here, in Birmingham, a stones throw away from Stratford and Shakespeare's birthplace, actors aren't cosseted or set apart. Here you work fast, you get yourself around, and you're very much part of the team.
As part of that team, my eyes were opened to the whole process and I found I wanted to be more involved. Writing an episode would be a challenge. I knew the actor's frustrations - heavy schedules, not enough rehearsal, too many stage directions. Also my acting schedule at the time was pretty heavy and any writing would have to be done around that. So my days began early, about 5.00am. Initially, I managed around 4hrs writing a day.
At first, I wrote a story for Cherry Clay (Sophie Ableson). Something gritty. I felt she longed to come out of her 'pink phase' and like a jail break, I wanted to help her. Once I'd written it though, she left - so I had to re think. First lesson in Doctors – write fast!
I must point out at this stage that I went through all the proper channels. Submitting script and story lines to the right Departments and waiting.
So with Cherry gone I rewrote my episode, but this time I brought in Dr Khella (Vineeta Rishi). The story involved her working with a dog and I was on tenterhooks for a few days waiting to hear if she had any phobias or allergies. I got the go ahead, and from that moment my basic idea didn't change. But there were other changes. Always in Doctors, budget is important. Could I keep the scenes with the dog to a minimum? I think probably animals are more expensive than actors – they certainly get more breaks! Also I had an underused guest actor and I was asked to build up more of their story. There was guidance too over the description of an attempted suicide. The Samaritan media guidelines were consulted and I toned down the action, as any detailed description can be potentially harmful.
Eventually I delivered a "Scene by Scene" breakdown for the editor and producer to work from. From there I went through four more drafts, each given to different members of the editorial team. They all assigned their notes which I assimilated.
By this time I had left the series (I was tempted to have a scene in the Mill where everyone discussed how much they missed and adored my character, but I resisted), and I needed to watch it every day to keep in touch , but now I could devote more time to rewrites. When the episode was finally locked off by the series producer I experienced a mixture of sadness and relief. I needn't have worried, in true TV Drama fashion I received a call a few days later, the timings were short could I write some extra scenes - as soon as possible.
Watching my Episode being filmed was a whole other story. Seeing your fellow actors speaking your words is nerve wracking. You hope you've given them something good to work with and you hope they treat it kindly. I didn't have to worry, they were brilliant.
We all have an opinion on how to do someone else's job and as an actor I've been guilty in the past of taking writers for granted. It's easy to knock the part of the team that isn't there. But not any more. Writing for Doctors has taught me a lot of things; mainly how much blood sweat and tears goes into a half hour script. I've loved every minute of it and I look forward to writing some more episodes.
Thank you Doctors!
Doctors Notes
Interviews, musings and other extras from Doctors.
Karen and Rob's fostering story line has touched on many different issues, here we talk to storyline advisers, The Fostering Network, on how they've worked with the researchers.

Ian gives us an insight into the working behind his first script for Doctors!

Find out about Christine's latest appearance Letherbridge in an exclusive interview.

He plays fast talking Dr Sid Vere, but how will he fare against our quick fire round?

Is Ian as quick witted as his character Al, find out with his quick fire questions!

Let's see how The Mills' midwife handles the 'quick delivery' of these questions!

The Mills newest resident answers some tough quick fire questions!

We talked to Peter Lloyd, Series Producer, to get the low-down on today's shocking developments.

We caught up with the actor and director to talk about directing for a fourth time...

Matthew discusses the challenges of directing Doctors for the third time!

Series Producer and Writer Peter Eryl Lloyd gives an account of the writing challenges behind Doctors' special two parter: 'Austenland'.

Actor Janet Dibley who played Elaine Cassidy in Doctors for two years has just written her first episode!

Doctors Series producer Peter Lloyd's final instalment explains the process behind creating a truly great character.

Doctors Series Producer Peter Lloyd explains the inspiration behind the character names in Doctors.

The musings of Doctors Series Producer on the perils of finding the best actor for the role.

Doctors Series Producer Peter Lloyd mourns the departure of some of his favourite Doctors actors.