Matchstick Buckingham Palace
Here we have a model of Buckingham Palace made entirely of 39,000 matchsticks by the owner's great grandfather, William Moyer.
Moyer approached the palace to get the exact dimensions in 1957 and was sent all the sizes and a plan, so the model is an accurate depiction.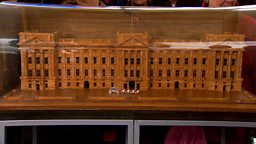 The frontage of the palace shows its redesign in 1913 by Sir Aston Webb. The model took two and a half years to build. It's a labour of love though, as its value does not reflect the hours of work involved in its construction. It would probably fetch between £400 and £500 at auction.
Did you know? Buckingham Palace was originally known as Buckingham House. The Duke of Buckingham built it in 1703 as his grand London home.
Did you know? Although Buckingham House was transformed into Buckingham Palace in the 1820s by King George IV, Queen Victoria was the first monarch to make it an official residence in 1837.
Get the app that lets you join in by guessing the values of items featured in the show.