I Have a Grant
Are you already a BBC Children in Need grant recipient? There's lots of information and guidance that we've prepared to help you.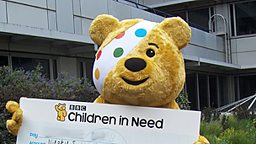 Working With Children
Children and young people are at the centre of the work of BBC Children in Need and we believe that all children have the right to protection from harm. We recognise our responsibility to safeguard the welfare of all children and young people we work with, by a commitment to practice which protects them.
BBC Children in Need is not and cannot be expert in child protection but we work alongside the NSPCC and other leading organisations to promote best practice in safeguarding children and young people. Good child protection and safeguarding is achieved through establishing a positive organisational culture and a number of complementary procedures and checks.
Please refer to the Safe Network website for safeguarding children in the voluntary and community sector, paying particular attention to the Are they safe? resource or the core Safeguarding Standards. If you have any questions or require further guidance, you can contact the Safe Network enquiry service if you are in England or the NSPCC offers a Consultancy Service for organisations to access across the UK.
Reporting Guidance
We awarded you a grant because we believe that the activities or services you provide will make a difference to the lives of the disadvantaged children and young people you work with, and contribute to our ambitions for every child in the UK to:
Be safe
Be happy and secure
Have a chance to reach their potential.
We are interested in learning from all our funded projects about the difference they make. We ask you to measure and evaluate your project and report back to us every year.
In your report we'd like you to tell us about:
The activities and services you provided, when they happened, how often and for how long
The numbers and ages of the disadvantaged children and young people you worked with, and the type of disadvantage they experience
The three most important differences (outcomes) your project is making to children's lives
Any other differences (outcomes) you have seen the children experience, in order to give us a full picture of your project
A case study to tell us the story of an individual child, to help really bring your project to life (this should be anonymous)
How you have spent the money you were awarded
What you have learnt - projects should always be looking to learn and improve.
In order to measure, evaluate and report on your project it is important that you keep records and notes and have regular discussions about your project. You should plan to collect information about the differences you are making (your outcomes) routinely from the start of your project. This will allow you to learn and develop your project to improve the differences you make. It will help you to explain to your participants, staff and supporters how successful your project is, as well as enabling you to complete your end of year grant reports and strengthen future applications for funding from many sources.
Please read our full Guidance on Reporting to BBC Children in Need, including support with setting your outcomes and self evaluation, as well as FAQ's and an example report form.
Publicity for BBC Children in Need Grant Recipients
BBC Children in Need are proud to be awarding your organisation with a grant and it would be fantastic if you could announce this to your local media and on your social media platforms such as Facebook and Twitter.
This is a great way to raise awareness of your project and the difference you are making to young lives in your local community. It's also a way to show the public where the money they raise goes, and the thousands of young lives that have been changed by the generous support of fundraisers across the UK.
Using our helpful hints and press release template, you will have the tools to spread the word and announce your BBC Children in Need Grant. This template will allow you to input information on your project to then send to your local press contacts.
Twitter
Shout to your followers about your new grant; follow us on twitter and include us in your tweet (@BBCCiN). Where possible we will aim to follow you and retweet your celebratory tweet to our own followers.
You can also use our hashtag #CiN
If your tweet is to recruit for a post which we fund, please ensure the job description you link to clearly states how the role will help children and young people. This will help anyone who sees it understand why we are funding the role and how you are making a difference as well as ensuring you attract the right people to apply.
Facebook
Tell your Facebook supporters about your new grant and tag Pudsey Bear into the message by typing @Pudsey Bear (it should automatically suggest us if you've already liked our page).
Where possible we will like your page and we may allow certain user posts to appear on our page. Don't forget to mention that you project is funded by BBC Children in Need when posting on your Facebook page if you'd like us to re-post.
Google+
If you use Google+ then tell your followers and circles about your new grant and tag BBC Children in Need by typing @BBC Children in Need. If you are following us or have us in your circles then it will automatically suggest our page.
YouTube
We often feature videos of children and young people from projects we fund on our website and YouTube channel. Please subscribe to our channel if you have a YouTube channel of your own and if you have a video you would like us to feature then please let us know.
And More
You can also engage with us in other ways :
Instagram: for great images
Pinterest: an online pinboard where you can add links to places to buy/download/bookmark useful info
Vine: which is like twitter for video (6 second clips)
Download our iPudsey app. If you have an iOS device search for BBC Children in Need
Remember that every time you upload or use an image you need to get the right permissions and consent from all parties (see the Photography & Images section for more information).
Acknowledge the Charity
Please ensure that you include our branding when distributing any press releases or social media messages and follow the BBC Children in Need branding tips below:
Please use our full title: BBC Children in Need
Use the correct logo. Please use the 'funded by' BBC Children in Need logo and make sure it is clearly visible on the press release
Please do feel free to use our 'funded by' logo on your website, and on any branding or materials you might use over the course of your grant
If you haven't already received a copy, you can get our 'funded by' logo by contacting us, email pudsey@bbc.co.uk or call 0345 609 0015.
Photography & Images
We are always looking for great images to use on our website and social media to help show the public why their support is so important. If you have any pictures of your project which represent the work you do, funded by us then please let us know. We need good quality pictures, as high resolution as possible which bring your project to life.
Don't forget to tell us who or what is in the picture. Once we receive the picture, we will need you to sign a permissions form so make sure you have the consent of all parties.
Any Problems?
If you have any questions or queries, please contact us by email pudsey@bbc.co.uk or call 0345 609 0015.