Shaun Keaveny's Top 10 Tips for Hosting a Breakfast Show
#10LONGyearsofKeaveny
7am. Monday 2 April 2007.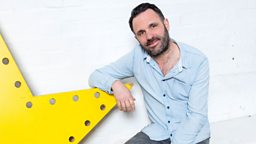 The time and date when life and BBC 6 Music as we know it changed forever. 'Why?' you may ask. Well it was the moment when Shaun William Keaveny - affectionately known as Shaun Keaveny - took to the Breakfast Show for the first time on this hallowed and beloved station.
A legend in the making. Nobody knew that some ten years (oh and a live OB in his childhood library, Rod Stewart on backing vocals and Ryan Gosling giving relationship advice - to name a few) later, The Keaveny would still be here going strong, we might add.
But what exactly is the secret to his success?
The ever graceful Shaun shares his pearls of wisdom; as all at 6 Music and beyond say congratulations to him on his 10th anniversary on the 6 Music Breakfast Show.
Here's to the next ten (and surely more!)
1. Be enthusiastic
At least for the first 12 months or so. Then, when the realisation slowly begins to seep through the cracks of your consciousness that no, this is not a bad dream and yes, this really is your job, ratchet down that enthusiasm to a more manageable level. I always explain to people that as a long-term sufferer of Breakfast Show, one has to operate at an Emergency Lighting/Pilot Light level, in order to maintain any hope of long-term survival.
2. Keep up with cultural developments/musical trends/film news
You might well be able to manage this for a year or two/until your first child comes along. After that, the powerful confluence of child-related sleep deprivation and work-based exhaustion will cause you to slowly lose enthusiasm for the weekly whirlygig of cultural cornucopia that you once enjoyed. Before long, the only subject you will be able to lucidly discuss will be Coronation Street plotlines, and you will develop an unhealthy obsession with your elder child's Peppa Pig boxset, vociferously arguing with other parents about which are the funniest episodes.
3. Make notes
Never do Breakfast, your entire life becomes material...
I remember a venerable Breakfast Host once ruefully saying to me, "never do Breakfast, your entire life becomes material". How right they were. In the absence of cultural currency to inform your links (see above) you starts to mine the darkest recesses of your existence for insight/gags…supermarket checkouts, new shoes, children's school curriculum, toothpaste lids, all of a sudden, the most mundane things become mirth fodder. And I MEAN, mundane.
4. Drink lots of coffee
I like to have a couple of triple espressos before I go on air. Or three doubles. Sometimes I'll settle for six singles. It depends on my mood. Whichever I choose, whatever state I was in when I arrived in the morning, I'll be gibbering like a parrot by 6.55am, just the way my audience likes me.
5. Do it with your friends
I know I am known for (I sound like Donald Rumsfeld now) being a cynical grumpy schadenfreude-spewing solipsistic sourpuss, but I am utterly blessed to do the best job on radio every morning with the best people one could ever hope to work with. (AWWWWWWW!!) Phil, Matt, Joe, and the rolling retinue of good vibes merchants that occasionally pass through, make it such a lot of fun, it's easy to forget you're on air.
6. Have a Wise to your Morecambe
A Little to your Large, Bonnie to your Clyde, an Ant to your Declan… I - in the equine-shape of the wondrous Matt Everitt - have found a broadcast partner-par-excellence. On a good day, I do genuinely consider us to be entertaining. We have become so close that we have synchronised bowel movements, tax disc renewals and divorces. Put simply, I love him.
7. Stay up all night
It's nothing to brag about, but on perhaps three or four occasions…. ok wait, maybe eleven.. I've been, a little unprofessional. One thing I quickly learned about my brethren, the devoted and gorgeous listeners we are lucky to share our mornings with, is that they absolutely LOVE it when I am out of control shambolic, insensible and mischievous.
8. Speaking of Wogan, channel your inner Wogan
I work in Wogan House, thus called as, of course, it was the final broadcasting place of the great man himself. A man who brought me bacon butties and bonhomie after his show on more than one occasion. A simple action that made me feel anointed. A man who proved that with little more than perseverance, patter and a prodigious appetite for silliness could get you a national breakfast audience. He, of course, had intoxicating levels of charm also. I am, and never will be, a tiny patch on the Great Man, but I learned from him how to do my job. Wogan House is also Home Of The Masters, everyone from Ken Bruce and Chris Evans to Liza Tarbuck, Vanessa Feltz, Steve Lamacq and Lauren Laverne… It's a hothouse for radio brilliance, and it's impossible not to get better at your job while you're there.
9. Don't ever go out after 9pm
10. Stick at it, however harrowing and build your audience
We've never done anything special. We are remarkable for our unremarkable-ness. But by doing that, consistently, for ten years, we have the most valuable thing in broadcasting. An audience. A wonderful, warm, witty, quick, catty, cryptic, cynical, loving, affectionate, knowledgeable, wise, inclusive, sexy and deprecating audience, many of whom I have met, who we are privileged to serve, and who we hope to serve for a few more years to come. Or until I am sacked for some terrible misdeed.
I LOVE YOU ALL.