Why Years & Years' Olly Alexander is the frontman we need right now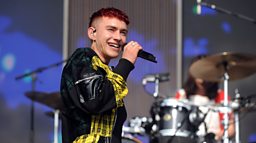 By Jamie Milton, 5 July 2018
In 2018, popstars don't have to just be hitmakers - they can also be bold, opinionated, and willing to put their neck on the line for a just cause. It also helps if they're funny, charismatic, and if they bring a solid Twitter game. That's a lot to ask for, but if anybody ticks all those boxes (and then some), it's Years & Years' Olly Alexander.
Since winning BBC Music Sound Of 2015 and releasing chart-topping debut album Communion in the same year, Years & Years, completed by Alexander's bandmates Emre Türkmen and Mikey Goldsworthy, have morphed from pop royalty in-waiting to actual all-conquering heroes.
Over this time too, Olly has emerged as a full-blown pop icon; a LGBT role model and a vocal campaigner for greater care in mental health. In other words, he's a frontman perfectly made for 2018.
WARNING: Third Party video may contain adverts.
To find out what he's been up to recently, check out Annie Mac's exclusive Years & Years Listening Party for the new album.

In the meantime, let's take a look at the frontman's journey to becoming a fully-fledged superstar.
He's pop's new LGBT icon
Hailed as "one of most influential gay pop stars of this generation" by the Gay Times, Alexander has embraced his status as an outspoken LGBT icon; not least on 2017's brilliant BBC Three documentary Growing Up Gay.
One of most influential gay pop stars of this generation

The Gay Times on Olly Alexander
Olly's emotional journey took him back to his hometown and his own experience of coming out to his mum. He then met with other young people going through their own struggles of facing the stigma that still surrounds homosexuality in some sections of society.
A staggering 40% of LGBT people experience a mental health problem in their lifetime. Growing Up Gay bravely put a spotlight on this statistic, and Olly's personal, soul-bearing story helped show why there's still so much work to do in supporting the gay community.
He scaled new heights (literally) at Biggest Weekend
Onstage, Olly is a spell-binding performer. At 2016's Glastonbury Festival, he wore a multi-coloured tassel jacket, stepping out on Glasto's Other Stage like a bird of paradise. "Shove a rainbow in fear's face!", he demanded midway through the band's set, which took place ahead of Pride Weekend, and in wake of the tragedy in Orlando.
His appearance at BBC's Biggest Weekend in May was equally glitter-clad and show-stopping. Performing in Swansea, he was raised 10 metres in the air on a giant cape, which was then stripped by a pack of dancers to reveal an all-green jumpsuit. Quick show of hands: name one other frontman who could pull off such a brilliant feat.
WARNING: Third Party video may contain adverts.
His band's new album is hugely ambitious
Need further proof of Olly's wizardry? How about the ambitious concept for Years & Years' imminent new album, out on Friday 6 July and exclusively premiered first on Radio 1 today.
Palo Santo takes its title from a fictional city – masterminded by Olly himself – which exists on a distant planet, one where us everyday humans are worshipped by robots. Olly, one of these mere mortals, is then asked to perform cabaret for king of the androids, a mysterious figure known as The Showman.
It's not exactly the kind of concept you can dream up out of thin air. Olly explained to BBC News that he wanted to "play around" with "religious iconography", not just in the album concept, where humans are worshipped, but in the band's music videos.
A big-budget short film for Palo Santo helped bring the album's story to life. Oh, and that voice narrating it all? It's the one and only Dame Judi Dench. No big deal...
And he's just like the rest of us...
If there's anything that marks Olly out from all the other superhuman popstars, it's how relatable he is. Take his response to finally meeting Shawn Mendes, or finding out he'd be on The Graham Norton Show alongside none other than Rihanna. "THE GODDESS ENERGY IN THE ROOM WILL BE ENOUGH TO MOVE MOUNTAIN AND SEA," he tweeted in response to the latter tidbit of info.
Just like any other rational human being, Olly hyperventilated and went into full Stan mode when meeting RiRi. He didn't waste time in acquiring an all-important fan photo, though. That's our boy.
Years & Years in the Live Lounge...
Olly is a big advocate for being yourself and never letting snide comments from others or one's own self-doubt get in the way. Even when he stands atop a 10-foot cape, you can tell he's overcoming not just physical obstacles and the general laws of physics, but his own emotional hurdles too.
In 2018, we want our popstars to be a real, honest, living embodiment of what they believe in. Olly is exactly that.