Rogue Traders: Best Lettings For You
Believe it or not, there's a property boom in the UK right now, but it's for property to let rather than property to buy. Raising a deposit and getting a mortgage has never been tougher, and that's good news for landlords (and landladies), as their rental properties are in high demand. However, Rogue Traders has discovered one lettings company that has been taking payments from potential tenants, guaranteeing them that the property is theirs, and then keeping the property on the market so they can collect similar payments from others.
Published on 12 April 2012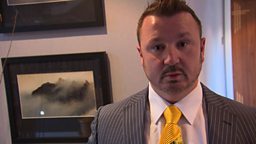 The company is based near Manchester and is run by property tycoon Brendan Kiely, who owns a number of companies, including Bentley Residential Lettings Ltd.
One prospective tenant, Roxy, saw a house with a sign in the window that said: 'To Let. £200 and move in.' Roxy subsequently arranged a viewing with a man named Chris. He showed Roxy around the property and told her that work was going to be done on it. He explained that the £200 would take the property off the market for Roxy and her family. Roxy got the money together and then around a week later happened to walk by the property on the school run and saw a friend of hers viewing it with Chris. Her friend had already signed the papers and had handed over their £200 payment as well.
Chris told Roxy that she had called Bentley Residential Lettings and said she didn't want the property anymore. Roxy says this is not true, "I was in shock, because I thought I was having this property. I'd paid £200," Roxy explained. Roxy pursued the company afterward but she found that either her calls were put on hold, weren't returned or were cut off completely. She never got her money back
We have also spoken to Helen. She also paid £200 to agent Chris to guarantee a property from Bentley Residential Lettings Ltd. The property was damp and needed repairs, but she was told it would be improved for her. Months later, the work still hadn't been done. While she was waiting for it to be completed, Helen discovered the same property was being advertised again, this time by a different company called 'Best Lettings For You', which was also owned by Brendan Kiely.
Helen made an appointment under a different name and went with her mum to the house. She hid in the car and waited for the lettings agent to arrive, and when he did, Helen saw that it was the exact same man, Chris, from Bentleys who had originally shown her around the property. The place was in the same state as her original visit and he even gave the same speech, including the information about damp. Helen explained that Chris then panicked; he then rang back to the head office, where he claims he was told that Helen had not been in contact with Bentleys so they thought she was not interested in the house. Helen maintains this was "a complete lie".
Donna also viewed a property that was in a bad state, and yet again in return for a £200 payment, Bentley Residential Lettings promised they'd take it off the market and do all the necessary repairs within four weeks. When it came to her moving day Donna explained: "Still no work had been done, walls wet through, damp in kitchen cupboards, mould growing everywhere, plants growing out of the floorboards. I wouldn't put a dog in a house like this. I wanted my money back, basically." Donna tried to contact the company, but the man who'd taken her money wouldn't take her calls.
We wanted to find out more about Brendan Kiely's companies and what they were up to. However, this time we didn't invite the traders to a house to secretly film them; instead, Rogue Traders' undercover stooges were going to theirs.
We lined up three potential renters and sent them in, one after the other. We wanted to establish if the company would take payment off each potential tenant and promise them all the same property. Best Lettings For You was advertising a house to rent in Preston. To secure it, all you had to do is put down £200.
Gemma was the first member of our undercover team to arrive. She was met by two agents from Best Lettings For You. One of them did the talking, the other, Scott, was there throughout so he knew exactly what was being said. Gemma was informed that there were a number of viewings on the property, and was then told that if she was interested in taking tenancy an application would be made and a £200 administration fee taken. When Gemma enquired as to whether the fee secured the property, she was told that it secures it as long as "everything is ok" with her documentation. Gemma then asked if she would get the £200 back if there were any problems with her paperwork, she was told that the £200 is non-refundable. However, she was assured that the only "issues are if people don't get documentation back in time."
Gemma also enquired about what would happen if someone else viewed the property that day and liked it. Gemma was told that if somebody did come to view the property and did want it then the agent would have to advise that person that they had somebody going through the process and if everything goes through for her then the property would not be available for them.
Commercial and Fraud lawyer, Mark Weston, assessed the undercover footage and concluded: "That's quite clear; she's been told unambiguously that if anybody shows interest they will be told that this lady has put her money down."
Gemma then hands over her £200 secure in the knowledge that the property is hers; all she has to do is get her paperwork to them in time.
Thirty minutes later, Daniel, our second would-be tenant arrived. However, rather than telling Daniel that there was a viewer who was interested in the property, Scott Marshall, who was present during Gemma's viewing, told Daniel that there were other viewings on the property but then proceeded to tell him that if he paid the £200 fee then he wouldn't be putting anybody else's name down. In fact, Scott says no fewer than six times that he won't put anyone else's name down on the property, so a reassured Daniel reached into his pocket for £200.
Just half an hour after Daniel left, our third would-be tenant, Jim, arrived at the door, and was promptly greeted by Scott Marshall. Scott explained that he had two viewings in the morning, and both parties are interested in the property. However, Scott reassured Jim that if he does put the administration fee down, nobody else's name would go on the property. Jim asked Scott whether anything had been secured so far, to which Scott told Jim "No, not at the moment no". Mark Weston said: "That is a definite lie. In terms of a fraud, that is a fraudulent misrepresentation. He's telling him something that's not true in order to get the £200."
We needed clarification as to whether we were dealing with one rogue letting agent or whether it was company policy to guarantee a property for more than one person, so they can pocket multiple payments.
A few days later, Jim headed for the company's offices in Middleton. He explained that he had heard rumours that other people were interested in the same property had put his money down for and that they had also put an application fee down and he wanted to check whether this was the case. He was reassured that the property was secured for him for the seven days while he gets his paperwork in and that if they took £200 from anybody else in that time, it would be "theft".
Jim then sought more reassurance that the property was his - this time with a manager. She checked for Jim and reassured him that nobody else had put anything down on the property, and the company was simply waiting for Jim's paperwork.
Lawyer Mark Weston assessed all of Rogue Traders findings: "There's no shades of grey there, it's black and white. They were caught in an outright lie, not once, not twice, but three or four times. Legally there's a whole host of things that's wrong with that. It certainly seems as if the Consumer Protection from Unfair Trading Regulations 2008 applies."
Under the Consumer Protection from Unfair Trading Regulations 2008, companies cannot do anything misleading with an effect that causes a consumer to do something they wouldn't otherwise have done. Here, would-be tenants are paying out £200 which they wouldn't otherwise have done if they knew the truth.
Mark Weston continues: "The second thing and probably more damning is that it is probably an outright fraud. There are a few fraud offences. One of them is called a Fraud by Representation. This means that if you dishonestly say anything that's untrue with the intent to make a gain, that's illegal". However, that is exactly what has been happening - repeatedly.
We wanted to see how Scott would react if he was caught red handed and so our undercover researcher made an appointment to view a property in Burnley with Scott. Again, Scott told Lisa that her name would go down on the property and that if anyone else saw the property he would tell them she had put her name down. Lisa then signed up to the property and handed over her money.
Just 20 minutes after Lisa left, our second prospective tenant, Steve, arrived, and duly received almost exactly the same spiel. However, Lisa, our first undercover researcher then returned, pretending that she had left something behind. Scott seemed desperate to keep the two would-be tenants apart.
Matt Allwright emerged just as it was getting a bit too awkward; Scott refused to speak to him but did return Lisa's £200 just before he drove off.
Of course, all of this can't be laid at the door of a single agent. Scott was working for the big boss, Brendan Kiely. Matt was invited to Brendan's home to have a chat. Brendan denied any wrong-doing. He claimed that anyone who is due a refund and/or have been treated unfairly by Brendan Kiely or any company associated with Kiely could feel free to come to 71-73 Long Street, Middleton and obtain a refund. He also said if anyone considers their property to be in a bad state of repair, write in or telephone and within seven days that property will be put back in good condition.
Brendan Kiely's since accused us of being biased and unfair and he denies fraud. However, he says the company's learned valuable lessons. He says while some employees made mistakes due to lack of training, any of those identified as working outside company policies have been removed. He also says the £200 fees - which he claimed were to cover processing costs - have been scrapped, to prevent further cases of abuse.
He's promised us a £400 refund and says he's also paid back monies taken in error from others.