Glastonbury on iPlayer Radio
iPlayer Radio is the home of the BBC's great music content - and now it's even better, because we've put Glastonbury in it!
Never miss a moment of the BBC at Glastonbury.  Download the iPlayer Radio app for your mobile, and you can easily launch the Glastonbury website at the touch of a button.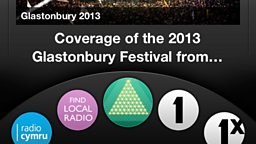 You can download iPlayer Radio for your iOS or Android device, and watch all the live video streams and on-demand video right there in the palm of your hand.  Download it now, and tap the Glastonbury pyramid in the iPlayer Radio dial.