Touring Kent to avoid the plague in London
There is general agreement among academics and historians that Shakespeare may have joined a group of players called Lord Strange's Men by 1592, and that the first of Shakespeare's plays to be performed in Kent was probably Henry VI Part 1.
Lord Strange's Men had played at the Rose Theatre in London between February and June 1592, until the outbreak of plague in London closed the theatres and forced the playing companies to tour the provinces until 1594.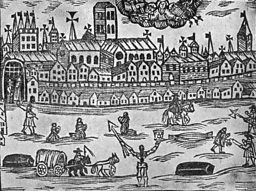 Plague London 1665 (c) Hulton Archive/Stringer/Getty Images
According to Philip Henslowe, who kept a diary during this time, in the four months around spring 1592, a new play in the repertoire of Lord Strange's Men was harey the vj, (Henry VI) probably the prequel to the second and third parts of the Henry VI trilogy.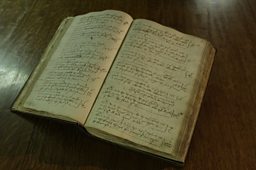 Philip Henslowe Diary. With kind permission of the Governors of Dulwich College.
In 1592, when Henry VI Part I was mounted at the Rose, Strange's Men were forced to go on a provincial tour during the closure of the theatres, first as result of an apprentices' riot in Southwark in June that drew the ire of the Privy Council, and then as plague became endemic in the city of London later the same summer. They were able to return to the Rose by December 1592 but then the theatres were closed again because of plague in 1593 for a long period, which explains why Strange's Men did not perform at the Rose after 1 February 1593.
Records show that "my Lordes stranges players" went on to tour and, among other venues, were paid 20 shillings in Maidstone, Kent.
'Rebellious hinds, the filth and scum of Kent, Marked for the gallows, lay your weapons down; Home to your cottages, forsake this groom. The king is merciful, if you revolt.'

(2 Henry VI, 4.2.110-13)
Although we cannot say for certain whether Shakespeare joined the tour, leading academics such as Sally-Beth MacLean, from Records of Early English Drama (REED) think not… as he may have joined another company Pembroke's Men by this time. But there's a good chance that his play Henry VI, pt 1, was in Strange's Men's touring repertory.
The scenes in 2 Henry VI depicting the doomed revolt of Jack Cade and their salutary lesson to support the monarchy would have had particular resonance for Kentish audiences.
The only other recorded visit of Shakespeare's company to Maidstone came between 2 November 1605 and 2 November 1606, when the King's Players and trumpeters were paid £2 5s.
King Lear, the first performance of which was at Whitehall on 26 December 1606, would have been particularly appropriate for a Kentish tour at the time, but Macbeth or Antony and Cleopatra were also new plays in the repertoire of the King's Men during 1606.
Shakespeare on Tour
From the moment they were written through to the present day, Shakespeare's plays have continued to enthral and inspire audiences. They've been performed in venues big and small – including inns, private houses and emerging provincial theatres.

BBC English Regions is building a digital picture which tracks some of the many iconic moments across the country as we follow the 'explosion' in the performance of The Bard's plays, from his own lifetime to recent times.
Drawing on fascinating new research from Records of Early English Drama (REED), plus the British Library's extensive collection of playbills, as well as expertise from De Montfort University and the Arts and Humanities Research Council, Shakespeare on Tour is a unique timeline of iconic moments of those performances, starting with his own troupe of actors, to highlights from more recent times. Listen out for stories on Shakespeare's legacy on your BBC Local Radio station from Monday 21 March, 2016.
You never know - you might find evidence of Shakespeare's footsteps close to home…
Craig Henderson, BBC English Regions
The nation's greatest performing arts institutions mark 400 years since the Bard's death
Shakespeare on Tour: Around Kent
Likely to have staged a Shakespeare play during the dramatist's own lifetime

And possibly the host of the first amateur performance of Shakespeare
Shakespeare on Tour: Around the country