Live Music from the National Eisteddfod 2013
Live from the Maes in Denbighshire during the 2013 National Eisteddfod, Bethan Elfyn introduced great live music from some of Wales' most exciting acts. Catch the acts each day across Eisteddfod week from 2.30 PM (approx).
Live from the Maes: Who performed when
Monday 5 August – Our Welsh Artist of the Week, Gwyneth Glyn. Gwyneth is a poet & singer from Bangor, who's recently been in Washington DC performing at the Smithsonian folk festival, and over in Mumbai collaborating in preparation for Womex coming to Cardiff.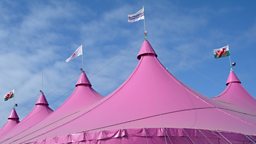 Tuesday – Aberystwyth harpist Georgia Ruth. The Aberystwyth harpist, a former Welsh Artist of the week here on Radio Wales, continues to attract plaudits for her album Week of Pines. Georgia has been described as "One of the British folk discoveries of the year" by The Guardian.
Wednesday – Merthyr youngster and passionate Welsh speaker Kizzy Crawford has played sessions on the station for Jamie Owen and Bethan Elfyn.
Thursday – Pwllheli's Al Lewis has released the album Battles this year, and an EP of live recordings. He's also been busy on the live circuit which included the Radio Wales Music Day Wrexham concert, and more recently supported Jools Holland at Kew Gardens.
Friday – Cowbois Rhos Botwnnog are three brothers from the Llyn Peninsula, who already have three folk/country albums under their belts. The latest - 'Draw Dros y Mynydd', was nominated for the Welsh Music Prize 2012.
Lots more on the BBC Eisteddfod website
To find out more about the National Eisteddfod visit the bilingual BBC Eisteddfod website, where you'll find guides, live video and audio streams, clips of stage performances, results, a live blog and much more - www.bbc.co.uk/eisteddfod
Visit the BBC's site for the latest news from the Maes, live video & audio, results, galleries and more.