Radio 2's Young Brass Award 2017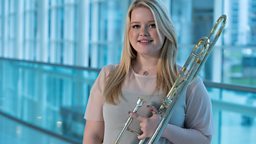 Young Brass Award Winner 2017 Isobel Daws
We are thrilled to announce that the winner of the Young Brass Award 2017 is Isobel Daws on the Trombone.
For the competition Isobel played Rhapsody for Trombone and Brass Band by Gordon Langford.
The Young Brass Award is Radio 2's annual search for the next brass star.
The competition is open to brass players between 16 and 21 and for residents within the UK, the Isle of Man or the Channel Islands.
Based on the initial entries, we selected eight players who went through to the semi-final stage.
The semi-finalists were: Lewis Bettles - Trombone, James Nash - Flugel Horn, Samuel Taber - Bass Trombone, Ross Dunne - Tenor Horn, Isobel Daws - Trombone, Siobhan Bates - Tenor Horn, Adam Neild - Cornet and Ellena Newton - Trombone
The semi-final took place on the 11th February 2017 in the Philharmonic Studio, Salford. All players performed up to 10 minutes of music with the Foden's Band with conductor Michael Fowles.
Four players were then selected for the live final; all with the World famous Foden's Band.
The Young Brass Award 2017 finalists are: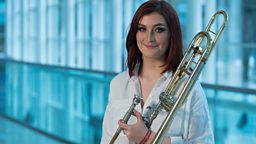 Ellena Newton
Trombone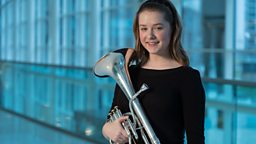 Siobhan Bates
Tenor horn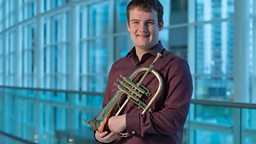 James Nash
Flugel horn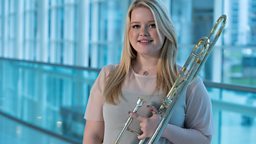 Isobel Daws
Trombone
The Young Brass Award final took place at the Royal Northern College of Music Manchester on Friday 21st April - presented live on BBC Radio 2 by Clare Teal and Frank Renton.
Foden's Band accompanied the finalists and played a concert of their own during the adjudication.
Young Brass Award Alumni
Previous winners have included Matilda Lloyd who last summer made her solo Proms debut and toured as principal trumpet with the European Union Youth Orchestra.
After attending The Karajan Academy in Berlin and performing with the Berlin Philharmonic Orchestra, Ross Knight is now Principal Tuba with Orchestre de la Suisse Romande in Geneva.
Grant Jameson has just been appointed Solo Euphonium with The Flowers Band and the 2016 winner Daniel Thomas plays with the World famous Black Dyke Band .
BBC Music's talent schemes give thousands of new musicians the platform they deserve.