Private Lives
Full of razor sharp wit and sparkling dialogue, Noel Coward's Private Lives is one of the most popular and enduring stage comedies.
Famously written by Coward in just four days in 1929 when he was recovering from a bout of 'flu, the play premiered at The Phoenix Theatre, London, in September 1930. Noel Coward took the role of Elyot and also produced the play. The initial run was for a three month season and it sold out within the first week. Gertrude Lawrence played Amanda and Lawrence Oliver took the role of Victor.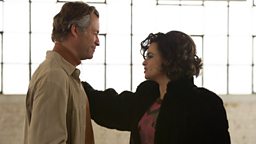 The American premiere followed the following year at the Times Square Theatre, New York, on January 27th 1931. Critics both from both sides of the Atlantic were enthusiastic about the play's dissection of middle class values and its musical language. The critics also praised Coward's performance as Elyot but Coward had this to say on the art of acting, "You ask my advice about acting? Speak clearly, don't bump into the furniture and if you must have motivation, think of your pay packet on Friday."
Richard Burton and Elizabeth Taylor knew Noel Coward and he told them that he would love them to take the roles of Elyot and Amanda. In 1982, Elizabeth Taylor played the leading role in The Little Foxes. The play was a hit on Broadway and in the West End and earned Elizabeth a Tony nomination. When the run came to an end, Elizabeth set out to find a play that she could star in alongside Richard Burton and Private Lives came to mind.
The Elizabeth Taylor Theatre company's production of Private Lives opened at the Lunt-Fontanne Theatre in May 1983, following a pre-Broadway run at the Shubert Theatre in Boston in April 1983. John Cullum co-starred as Victor and Kathryn Walker as Sibyl. After closing on Broadway, the company toured theatres in Philadelphia, Washington, Chicago, and the tour ended in Los Angeles. Elizabeth and Richard received a rapturous reception from the audience with standing ovations and numerous curtain calls. The story of Private Lives has many similarities with Richard and Elizabeth's own lives, particularly the portrayal of a couple known for their fiery rows and passionate reconciliations. The audience responded with enthusiasm to the parallels between the play and Richard and Elizabeth's own story. The critical reception to the production was mixed but this did not deter the audience who flocked to see the stars appearing together on stage.
Private Lives has been revived many times since the premiere in 1930. Actresses as diverse as Tallulah Bankhead, Joan Collins, Juliet Stevenson, Lindsay Duncan, Kim Cattrall and Anna Chancellor have played Amanda. Donald Cook, Edward deSouza, Robert Stephens, Anton Lesser, Alan Rickman, Matthew MacFadyen and Toby Stephens have all taken the role of Elyot.