Rogue Traders: Amazing Brides and the Wedding Dress Studio
For many weddings the focus of the big day is often the brides dress and it's important for most brides to get it right. But we've been hearing from customers of Amazing Brides in Wakefield and The Wedding Dress Studio in Dewsbury (not to be confused with other bridal shops of a similar name) who have had far from happy experiences. The two shops are run by husband and wife team Bev and Dean Hanson-Shaw, which would be quite sweet if they hadn't upset as many brides as they have.
Cheryl Tucker paid £1200 for a made to measure dress from Deans store 'The Wedding Dress Studio'. He told her it would fit her curves and look great. But six months later when she came to collect the dress it fell apart. The beads and sequins fell off and it didn't fit her properly.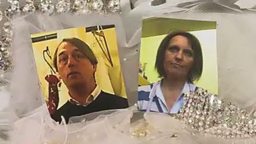 When Cheryl complained to Dean he wasn't interested and told her to take it up with his lawyers. She ended up having to buy an entirely new dress for more than £1,000 pounds.
At least Cheryl had the option of buying another dress unlike Rebecca Shaw who paid £2500 for a dress from wife Bev Hanson-Shaw's shop Amazing Brides.
When Rebecca received her made to measure dress it was five inches too small and couldn't be done up at the back. Too late to buy another dress she had to pay another seamstress to fix a panel into it so it would at least fit her. The dress lasted until the evening when it started to fall apart.
What was Bev Hanson-Shaw's reaction? She said she would call the police if Rebecca and her mum didn't stop complaining.
We've also heard from brides to be who were promised unique gowns only to find out they weren't as unique as they had been led to believe.
Faye Lansdell bought a dress from Bev at Amazing Brides having been told that it was the shops own design and couldn't be bought anywhere else. Then her friend spotted the exact same dress being sold by another company at a wedding fair. Faye asked for her money back but she received a resounding no from Bev along with another threat of legal action.
So we wanted to investigate both the Hanson-Shaw's shops. We sent in two undercover moles, 'Anna' and 'Muriel' - to play brides to be.
Anna visits Amazing Brides with just 8 weeks to go until her fictional wedding and for Bev to help her find the perfect dress. Reassured by Bev's encouraging comments Anna falls in love with a dress and is told by Bev that its "made to measure".
"you know what, you don't get Haute Couture down in London unless you're really paying for it... yeah it's made especially for you. To your measurements."
Anna pays a £900 deposit and has her measurements taken. Whilst reading the sales contract she notices an odd clause saying,
"I understand that any online reviews, written by me, with regard to Amazing Brides, will be subject to scrutiny by Amazing Brides' lawyers and may result in legal action."
Bev says they have the clause because rival shops post negative reviews about them, but we think it might be more to do with the unhappy brides we met earlier.
Reassured she will get the perfect dress Anna pays a further £184 for a new veil and bespoke tiara. Then waits for big fake wedding day.
Meanwhile Muriel, our second undercover bride to be, visits Dean's shop The Wedding Dress Studio, where he has an interesting turn of phrase when describing the dresses,
"this is what we call dark ivory...dark ivory is not dark, and it's not ivory…by its description we call it dark ivory as there is a difference." Confused? We were.
Dean goes on to tell Muriel that the dress she is trying on is unique to them,
"it's our style. You cannot buy any of this range from a shop".
But it looks very similar to a dress we've seen called Calistoga made by international dress makers Enzoani. But to be sure it's the same dress we enlist the help of an expert.
Fashion doyenne with three decades of experience in the business, who helped design the most famous wedding dress in the world for Princess Diana? It's none other than Elizabeth Emanuel.
Elizabeth compares the dress Dean told Muriel was unique and their design to the Enzoani catwalk one. She spots a lot of similarities that are more than coincidence.
"the buttons up the back…that embroidered appliqué with all the sequins...It's the same shape as this...It looks virtually identical."
So does Elizabeth think it's the same dress?
"It's one and the same dress as far as I can see. I don't see any difference at all."
And neither did Enzoani. We showed them Dean's design and they confirmed it was their design. But being a family business we visited Amazing Brides to find the same dress again being touted as a dress unique to the Hanson-Shaw's shops; "you won't find our designs in any other shop. These are ours."
So Dean and Bev were selling other designers dresses as their own, but what about the quality and fit of the dresses sold? Well as Anna's fake big day arrives and she goes in to collect her dress she immediately notices a new sign in the shop that's a bit worrying:
"please note, dresses are standard size nearest to your own."
That's certainly not what we've been told. Anna asks Bev's assistant about the sign and is told "That's just…for anybody else. Yours isn't. You've had yours made specially. Are you with me?"
Time for the big moment – what does the dress look like? Anna tries it on but it's clear there are some serious problems. With just 2 days to go until the fake big day she has no choice but to take it.
Expert Elizabeth Emanuel's expert tell us,
The first clue is the dress has a size 8 label. We were told ours was made to measure? Elizabeth says the dress looks factory made and is made from 100% polyester. Not what you would expect for a £1650 dress.
But what is more crucial for a wedding dress is the fit. Anna's on hand to model it. The dress is so large around the bust leaving a gap of several inches, which people can see right down. It's so big that Anna can spin the whole dress around, and put her entire arm down the front of it. It's a disaster and brings a new meaning to blushing bride. Elizabeth concludes by saying there is no way this dress has been made to measure.
Not only does the dress not fit but the new veil we get looks old and the tiara isn't the one we ordered.
Anna calls Bev to complain but she's not that interested,
"Anna, you've got what you've ordered from me. And we've worked overnight to get it done for you in time...We've done our best and we're all really stressed out with it now."
With this response we decide to visit the Hanson-Shaw's face to face. Their solicitor told us they were on holiday but we believe they are at their house, which doubles as the Wedding Dress Studio. By the time we get there they've boarded up their gates. Matt tries to talk to them but they aren't interested and they stay inside.
We set up an Amazing Brides wedding, with Anna in her badly fitting dress and Matt Allwright as vicar. They can obviously hear us as they send us our something blue – the boys in blue.
The police think it's time for us to move on and so do we but not after leaving the Hanson-Shaw's a wedding gift of their own – a banner reading "Amazing Brides, ruining weddings across Yorkshire".
Company Responses
Statement from Beverley Hanson-Shaw
I have been in business selling bridal wear for 20 years and have served thousands of brides who have been extremely satisfied with my service. I feel the programme makers have deliberately worked only to portray my business in a negative light.
We knew from the start your pretend 'bride' who entered our shop was 'different'. My assistant and I even discussed her 'strange' manner. It is now apparent that these people were bogus and entered my premises under false pretenses with the sole intention of damaging me and my business.
Your actors tried their best to manufacture a 'problem situation' with regards to my business for your programme. We still tried our level best to accommodate the 'bride's' wishes but nothing we did was 'right' in her eyes.
You then proceeded to invade my privacy by turning up at my own home with your film crew, Matt Allwright was armed with a megaphone and women were dressed as brides and men as bridesmaids, is this a joke to you?
All for what? To portray my shop in a bad light.
The wedding industry is a highly stressful trade whereby emotions run high. If we were in the wrong, we would have addressed that problem.
Your programme gives consumers false hope. You have four 'case studies'. Those who collected their goods have signed satisfaction notes, in each case they were verbally asked if they were happy with their orders and they have confirmed that they were.
Finally you have incorrectly associated two completely separate businesses, filming your make believe 'bride 'in a dress bought from my business at another shop.
Statement from Dean Hanson-Shaw
My business is a completely separate business to my wife's business. Why then did you film your make believe 'bride' in a dress purchased from another shop outside my premises? This is a gross misrepresentation and wrong. If aired giving viewers a completely wrong impression of two separate businesses and a false report. You have also infringed my wife's privacy, she does not run her business from here, this is her home.
The circus act you tried to pull outside my home was only brought to a close when you were moved on by West Yorkshire police.
In our years of trading we have had many satisfied brides, buying heavily discounted off the peg dresses or a dress to order. The main arm of our company is off the peg dresses at heavily discounted prices, we are mainly a discount bridal shop.
Prior to the BBC contacting me, my business was in the process of being wound down ( I have evidence). Do not try to credit yourself that my business website is down because of you and the BBC. Any comments made on this proviso would be dealt with in court as above.
Elsewhere on BBC Watchdog
Find more reports on rogue traders that the team have been hunting and confronting for giving customers a raw deal.