Smile5
About Smile5
Smile5 is a mail order catalogue company selling everything from Rolex watches to lawnmowers, from financial products to phone and broadband, from holidays to health insurance. And somewhere in a brown-field wasteland miles from the nearest town, it runs one of the largest call centres operating in the UK. This is the world of The Headset Set.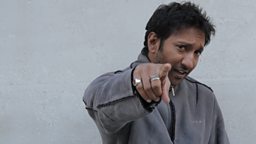 Smile5 was founded in 1888 by Graham Arthur, an orphan who pulled himself up by the holes where his bootstraps should have been and started one of the first ever mail-order elastic band businesses in Loughborough and the surrounding area: Arthur's.
Throughout the twentieth century, the business continued to expand branching out from elastic bands to sell an ever greater range of products, including sailing insurance and bow ties.
In 1998 Arthur & Sons sold a controlling share to Hong Kong based corporation Smile5 and adopted its name and mascot: the Cantankerous Cat. The Cantankerous Cat was deemed to alienate British customers in a market research poll in 2002 and was replaced by the Green Triangle.
In 2011, Smile5 has become the fourth largest mail-order company in the UK. Last year the car park at our Grantham call centre won "Most Improved Car Park" at the National Car Park Awards (award presented by John Major).
Smile5 – the rich gravy to your roast chicken of consumer needs!
Why choose us?
1. Reclaim your manliness
Are you as bored as we are with easy to assemble flat-pack furniture? It's taken all the fun and sense of achievement out of DIY. This is why we print all our instructions in Urdu and instead of Allen keys, we give you one of those pipe cleaners you had when you were a kid, bent into an 'L' shape. It will take you hours. Your children will be proud of you.
2. A secure payment system
We encrypt all your personal details by writing them down in really scrawly, joined-up writing so people can't read it. We even have a password on our smile5 computer; it's the word smile5, but we do it with a capital 'S' for extra security.
3. Guilt-free shopping
Do you know where the cheapest microwaves are in the former Soviet bloc? Of course you don't. Could you haggle with all those poverty-stricken coffee bean farmers? Of course you can't, you'd probably get all emotional. Well we don't care about that sort of thing. Let us exploit people so you don't have too. We've been doing it for years; we know how it's done.
4. We know people with vans
How do you think you're going to get stuff round to your house without a van? You can't take it on the bus, not unless you use those disabled seats at the front with the legroom and then you're just going to feel guilty when an elderly person gets on. It's going to be really, really awkward. No, the whole thing is a terrible idea. You need us.
5. Reliability
We are 100% accurate 40% of the time, and that's a really impressive stat if you don't think about it too much.
Smile5. Please use us. If you ran a mail order company, we'd buy stuff from that.
Testimonials
"I just wanted to say thank you Smile5 for totally changing my life! When I moved into my new house I spent all my money furnishing it with things from your catalogue. When they all broke I didn't know what I was going to do. Gradually though, the weeks and months of sleeping in a bath and scavenging for food made me realise that all possessions are fleeting. Now I live in a commune in Wales and cut my own hair!"
-Starfish (Formerly Doris Perkins)
"I just wanted to say how exciting I find your website. You place an order and you simply never know what is going to arrive. I ordered a foot spa last week and got skipjack tuna. Random! It's so exciting. I've ordered a new sofa from you today but it could be anything! It's like that show with Noel Edmonds and the boxes, but without Noel Edmonds. Brilliant!"
- Fardigan Bailey
More from The Headset Set