Q&A with Professor Ashley Adamson
Dietician Professor Ashley Adamson sets Si and Dave the challenge of halving their calorie intake. Here's a little more about her work...
What does your day-to-day job involve?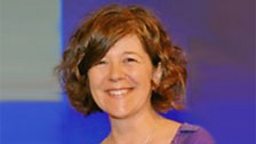 My job principally involves research and teaching. My main areas of research are on the prevention and treatment of obesity, with a particular focus on prevention of obesity in children.
Who do you speak to about your work?
I speak at conferences on a local and national level. It could be for a number of organisations such as the Association of the Study of Obesity, The Nutrition Society, the School Food Trust, and locally to those working in healthcare and health policy.
And what are your goals and objectives?
My work is about understanding, preventing and treating obesity. So I focus my work on children and promoting healthy lifestyles. I believe prevention is really important - that it's much better to stop it before it starts.
We know that overweight children are much more likely to become overweight and obese adults - 30% of boys and girls aged 2 - 15 were classed as either overweight or obese in England in 2010. [The National Obesity Observatory has lots more stats on childhood obesity.] 
Obesity costs the country a lot of money; the treatment, management and illnesses associated with it such as high blood pressure, diabetes, coronary heart disease and some cancers are all linked to obesity. These diseases cause a lot of ill health and unhappiness, and they cost the country a great deal of money to treat.
Obesity already costs the economy about £16 billion every year and is forecast to rise to £50 billion a year by 2050 if we can't reverse this trend [you can read more at the Government's Foresight website]. In my work I try to understand the individual factors and society factors that contribute to obesity in children and in adults.
Check back throughout the series for more information and practical tips from Professor Ashley.