Rage Against The Answer Machine
Need to vent?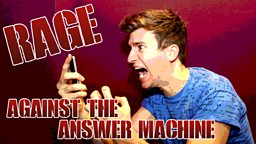 We're here to help...
Unleash your rage!
Greg has set up a phone line for you to have a good old rage against the answer machine. You can call it anytime - just leave us a message telling us what makes you really really irrationally ANGRYYYYYYYYYYYY.
Whether you've had a bad day at school, someone's cut you up on your bike or your local shop just doesn't stock the right biscuits, let us know. Greg is here to be your punchbag, and he'll play out his favourites during his show Monday - Friday 4-7pm on BBC Radio 1.
Ready? Give us a call on 03703333433, but make sure you're really riled up before you leave a message!
Things You Need To Know:
• You must be 16 or over and have the bill payer's permission
• Calls and texts will be charged at your standard operator rate. Check with your network provider for exact costs
• By calling, you agree for Greg to possibly play it out on BBC Radio 1
• Please make sure you check the number carefully before you dial
• Please don't call regarding emergencies or serious issues - Greg can't help you with those
For more information on our terms of use, click here.
GAHHHHHHHH!!!!