Level Up: How rap music helped make Fortnite massive and gave gaming a boost
24 May 2018, by Sam Moore
Portal. Pokémon Go!. Flappy Bird. They've all enjoyed their moment in the sun as video game crazes. There's the excitable, word-of-mouth movement which kicks off every craze, then the almighty clamour from an army of gamers who gather up absolutely everything that's associated with said game, and then... well, eventually people just tend to move on to the next thing, don't they?
Fortnite Battle Royale is hoping to buck that trend, and frankly you'd be brave to try and estimate its best before date. The online multi-platform sensation is currently the biggest video game around, transfixing an estimated 45 million players worldwide – some of whom will play in an upcoming tournament which is offering an eye-watering £74 million pool of prize money.
Fortnite has taken the gaming world by storm recently - Julia and Steffan investigate.
As explained on the latest episode of The Gaming Show, Fortnite pits gamers from around the world against each other on a variety of virtual maps as they bid to be the last player, duo or squad standing. Players can construct forts or shelters to gain an upper hand in eliminating their foe, while a plethora of weapons, armour and add-ons become available as you rise up through the ranks.
It's not without its critics, though - some have pointed to similarities with PubG (PlayerUnknown's Battlegrounds), which features a number of the same gaming mechanics.
Nevertheless, legions of professional gamers have gone wild for Fortnite, as well as some rather famous faces, with particular reverence emanating from the rap world. Artists such as Drake, Travis Scott and Rae Sremmurd have all publicly declared their love for the game, with their support further propelling Fortnite's ascendancy and bestowing a certain kudos to gaming in general.
This isn't the first time that rap and video games have gone hand-in-hand (who can forget PaRappa the Rapper?), with both formats having given the other a boost on plenty of occasions. Here are just some of the more high-scoring examples.
Samples and shout-outs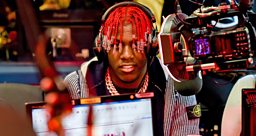 From the utilisation of the Soul Calibur soundtrack for a 2002 Eminem instrumental to Atlanta rapper Lil Yachty sampling the menu music from Super Mario 64, rap artists and producers have proudly drawn plenty of inspiration from video games over the years.
Nostalgia-inducing sounds and shout-outs to classic titles and consoles have constantly cropped up across both rap and hip-hop, with the likes of such major names as Frank Ocean, Jay-Z and The Notorious B.I.G all giving props to video game culture in their music.
The long-forgotten Wu-Tang Clan game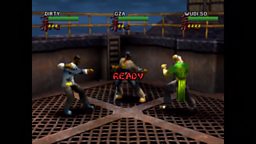 Credit: Activision
If you've got a dusty PlayStation copy of Wu-Tang: Shaolin Style kicking around, then good news! It's been known to sell second-hand for a whopping... £4.93.
But Wu-Tang's foray into gaming territory in 1999 signified a special kind of embrace between the realms of hip-hop and gaming, with the pioneering Staten Island group continuing their streak of pursuing novel ideas by signing up to the project. Members of the Wu lent their voices to both the characters and the soundtrack of the martial arts-based game, which itself was influenced by the kung-fu films of the 1980s from which the group drew so much inspiration.
Grand Theft Auto's love of rap
Music has been a key component of each and every GTA game, but it's really come into its own since the turn of the millennium. The 80s nostalgia of Vice City aside, each game in the 3D and HD eras of GTA have been soundtracked by an array of exciting, forward-thinking music, with the franchise having always looked favourably on hip-hop and rap.
Highlights of this predilection include San Andreas' sub-plot of its protagonist CJ managing gangsta rapper Madd Dogg, and acclaimed producer Flying Lotus helming an entire radio station on GTA V.
UK rap and grime's FIFA takeover
Warning: this third party video contains flashing images, and may contain adverts
The global launch of FIFA 18 was soundtracked not by a multi-million selling rock band or an act who regularly sells out stadiums, but by Tottenham MC Avelino. His aptly-titled track Energy – which features grime heavyweights Skepta and Stormzy – was the perfect match for the latest iteration of the hugely-popular football game, and it's hard to overstate the kind of exposure Avelino must have received from having his music featured on this kind of platform.
The great success of the union between the UK scene and FIFA in this instance means it's very likely that EA Sports will come calling again in the near future.
Rappers and Fortnite = a match made in heaven?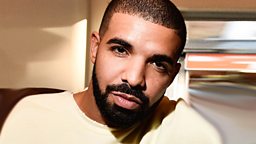 Speaking of unions between rappers and video games, let's return to Fortnite. It seems to be the game du jour of the rap world at the moment, with the likes of Chance The Rapper, Logic and Flatbush Zombies having professed their love for Fortnite.
Drake's recent foray into live-streaming Fortnite sessions with the YouTuber Ninja even managed to break Twitch's streaming records, illustrating the kind of audience that is clearly attracted to the prospect of the worlds of rap and gaming colliding.
There's even been a small rap scene that's emerged from the Fortnite craze, with braggadocious gamers keen to show off their competitive edge through the power of rhyme – although the quality of these songs has been debatable so far. They're probably better off leaving it to the professionals: they're doing a mighty fine job of repping Fortnite and video games already.