Nathan Wright interview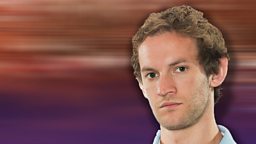 We spoke to Nathan Wright who plays new character Chris Reid in Doctors. Check out the interview!
Nathan Wright aka Chris Reid.
Tell us about the character you play, Chris Reid?
Chris is a caring, loving and loyal guy but is also someone who holds his demons close to the surface. He's very troubled by his relationship with his mom and he's at a point in his life where he feels a bit lost, I think essentially he's looking for consistency, maybe a girlfriend would sort him out. He enjoys nursing but it's more about the idea of helping people and being something of a Samaritan rather than the duties of being a nurse. He feels a strong connection to kids and I think tries to give them the care and support he missed out on from his mother. Ultimately he's a good guy who needs to learn to put himself first from time to time.
What are the differences between you and your character?
Well Chris likes football and I hate it so that's one difference. I suppose the biggest difference is that I have an amazing relationship with my mother, she's my absolute life.
What is it like working with the actress Dido Miles who plays Emma Reid your on screen mum?
Dido Miles is just wonderful. She's a fine actress and a joy to work with. We have a strong friendship off screen which naturally makes our job easier and more enjoyable. We live together in Birmingham and love naff TV shows.
What was your first day like on the set of Doctors?
I was pretty nervous to begin with but felt at ease very quickly. The team here are just incredible. They have masses of positive energy and everyone is so supportive. To come to work with a bunch of people that genuinely love their job and are a fantastic at it would put any employee in a good place, mentally and physically. It's a special place to work. I can remember the very first scene I filmed. I loved it to bits!
Do you have any gossip about any of the actors?
Loads, but I shall not breathe a word.
How did you get into acting?
Started off doing plays at primary and secondary school, then just never stopped until it became the only thing I was good at.
If you wasn't acting, what would you do?
I'd be sitting at home eating treacle tarts watching Disney films.
Who's your biggest onscreen crush?
Celia Imrie
Your top 3 songs at the moment?
I'm not very up to date with new music. I listen to a lot of old stuff so anything by Alice in Chains, Lynyrd Skynyrd, CCR and most metal bands you can probably think of.
Which words or phrases do you most overuse?
'Bake Off's on' You're missing grand designs' 'Let's watch a film'
Doctors Notes
Interviews, musings and other extras from Doctors.
Karen and Rob's fostering story line has touched on many different issues, here we talk to storyline advisers, The Fostering Network, on how they've worked with the researchers.

Ian gives us an insight into the working behind his first script for Doctors!

Find out about Christine's latest appearance Letherbridge in an exclusive interview.

He plays fast talking Dr Sid Vere, but how will he fare against our quick fire round?

Is Ian as quick witted as his character Al, find out with his quick fire questions!

Let's see how The Mills' midwife handles the 'quick delivery' of these questions!

The Mills newest resident answers some tough quick fire questions!

We talked to Peter Lloyd, Series Producer, to get the low-down on today's shocking developments.

We caught up with the actor and director to talk about directing for a fourth time...

Matthew discusses the challenges of directing Doctors for the third time!

Series Producer and Writer Peter Eryl Lloyd gives an account of the writing challenges behind Doctors' special two parter: 'Austenland'.

Actor Janet Dibley who played Elaine Cassidy in Doctors for two years has just written her first episode!

Doctors Series producer Peter Lloyd's final instalment explains the process behind creating a truly great character.

Doctors Series Producer Peter Lloyd explains the inspiration behind the character names in Doctors.

The musings of Doctors Series Producer on the perils of finding the best actor for the role.

Doctors Series Producer Peter Lloyd mourns the departure of some of his favourite Doctors actors.