Tazbekistan
Learn more about the People's Republic of Tazbekistan.
About Tazbekistan
Tazbekistan is desolate, wind-swept, freezing in the winter and scorching in the summer. Vast areas have been poisoned by 40 years of Soviet nuclear testing. The capital is a large unplanned sprawl marked by the crossed swords of a vast victory arch and the streets lined with images of the beloved leader.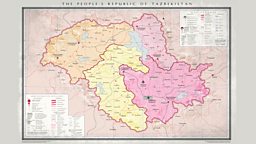 However it's also an up and coming tourist destination - the recently established Ryanair flights from Stansted have made it a haven for stag weekends. A typical trip involves firing AK's into the desert, a scrotum-tightening trip in the back of a MiG-21 and an STD to take home to the girlfriend after a night on the tiles.
After all it's 3,500 miles to Whitehall and its world of 'urgent action requests.' A posting this far away, in an environment this hostile, is an intense, isolated and unforgettable experience – resulting in great passions, feuds and intrigues - and that's just within the embassy.
It's a tough posting. Tazbekistan is not a country wives, husbands or children tend to rush to (unless they like cheap carpets, ex-Soviet plumbing and Human Rights abuses). The Ambassador's residence itself is that uniquely Tazbek combination: unfinished and yet already decaying.