1Xtra's guide to hilarious World Cup moments you may have missed
By Luke Morgan Britton, 6 July 2018
We're so deep now into the 2018 World Cup that it's tricky to keep track of all the great moments we've been graced with so far. We've witnessed great goals, dramatic games and certain headline-grabbing antics from one Diego Maradona.
To help you keep up to speed with all the biggest talking points, 1Xtra has been teaming up with BBC Sport for Barbershop Ballers, an alternate daily recap of the best bits and what's got the internet nattering. Hosted by our very own Nick Bright, it's like a footy version of Gogglebox, with some of 1Xtra's friends and favourites along for the occasion.
Barbershop Ballers has been highlighting some hilarious moments you may have missed from the tournament and here are the very best of those. Tune in to Barbershop Ballers every game night via the BBC red button or online through the live stream found via the 1Xtra homepage.
Aguero's fashion fail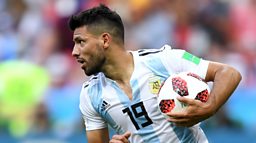 We have all been there - you've just bought a banging new piece of clothing, rushed home to try it on and flaunt it in front of the mirror, only to find out that it's not quite right. Maybe it's a little too tight, or just doesn't hang right, so you find the sewing kit, whip out a pair of scissors and get your fashion DIY on.
That's exactly the situation that Sergio Aguero found himself in as he was being subbed on for Argentina's last-16 tie against France, tearing a deep V-neck into his famous blue-and-white shirt. "Looks like he's auditioning for JLS," 1Xtra's Nick Bright quipped. "Someone needs to tell him they split up."
Aguero wasn't the only one making impromptu alterations either. Clearly Cristiano Ronaldo got the memo that short shorts are totally in right now.
It wouldn't be a true barbershop without a bit of chat about the 'dos on display. Neymar's bleach job obviously got everyone talking (and even caused fans to sport spaghetti on their heads in homage), but Ramos's disastrous trim was less instantly noticeable.
From one angle it looked like a slick fade, but from the other side it all fell apart. Bright thought Ramos's barber "got bored halfway through", while guest Wavy Boy Smith offered up this gem of an analogy: "A fade usually goes into waves, but that just stops - that's a cliff."
Chicharito's East End inspiration
Ramos's trim wasn't the only dubious haircut on display. For Mexico's ill-fated face-off against Brazil, everybody's favourite little pea grabbed the peroxide, opting for a Eminem-esque look that some saw as a way of trolling the opposition's main man, Neymar.
Even if that was true, the mind games didn't seem to work - Brazil won the game 2-0, with Neymar scoring the opener. Chicharito's blonde ambition didn't go down too well with the Barbershop Ballers team either.
Bright compared Javier Hernández's new look to that of Eastenders's Pat Butcher, asking: "Where's Frank, bro? All he needs is the earrings." Well, Chicharito does play for West Ham now. Maybe this was his way of repping East London.
Michy Batshuayi's self own
Goals can often cause people to get a bit carried away. There was that England fan going starkers in celebration of England's winning penalty against Colombia, for example.
That's the only defence we can give for this howler from Belgium's Michy Batshuayi after his teammate Adnan Januzaj scored the one and only goal against England in the last match of Group G.
Picking up the ball after Januzaj's wonder strike, Batshuayi then proceeded to emphatically kick the ball up in the air - only for the ball to hit the post and bounce back again smack-bang into his own face.
"The only thing that would make that clip better is if we layered Lethal Bizzle's Pow over the top of it," Bright joked. "Just 'Pow!' every time it hit him in the face."
Poor Michy, but at least he owned his own embarrassment on Twitter.
Despite missing his team's first couple of matches through injury, Vincent Kompany didn't hold back for Belgium's game against Japan, opting not to head the ball during one golden goalscoring opportunity, instead deciding to show off his marital arts prowess with a sky-high kick.
Sadly, Kompany's effort wasn't rewarded with a goal - and he almost managed to crash into the post. "I don't know who was more scared - the post or Vincent Kompany," Barbershop Ballers guest DT said of the gravity-defying moment. "That post must have seen [Kompany] coming and thought, 'Wow. Game over.'"
Literal armchair refs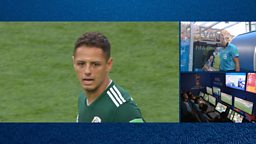 You hear of some e-sports gamers donning their favourite team's shirt or putting on a managerial suit and tie when they're playing a big Cup final - and it's this kind of mental image that popped into our heads when we found out that the Video Assistant Referees actually have to wear a full ref's kit, even though they're usually sat in a room miles away from where the action is taking place.
Nick Bright compared it to "doing a John Terry", a reference to the infamous time that the Chelsea captain changed into his Blues kit to celebrate his team's Champions League final win in 2012 - despite being suspended and playing no part in the actual game itself.
We just hope the VAR officials aren't walking around their control room in studs too...
And one that we missed...
Here's one moment that Nick Bright himself missed. "No one better score now!" were Brighty's famous last words before popping out for a loo break during Belgium's game against Japan.
Of course, Belgium then went on to score with a beauty of a header from Tottenham defender Jan Vertonghen. It was a goal that even Arsenal fan Bright wouldn't have wanted to miss...