LIGHTS OUT
From August 1-4, 2014, BBC Arts presented artist Jeremy Deller's series of films for LIGHTS OUT, a project which urged the British public to turn their lights off to mark the centenary of World War One.
The films were available until 11pm on 4 August, the moment 100 years before when Britain issued its declaration of war with Germany.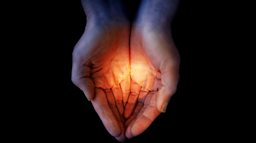 Jeremy Deller, a Turner Prize winner in 2004, was one of four leading international artists commissioned to create public artworks in Scotland, Wales, Northern Ireland and England to mark 100 years since the outbreak of war on August 4, 1914.
The lamps are going out all over Europe; we shall not see them lit again in our life-time

Sir Edward Grey
His digital piece revealed a new short film in the days leading up to 4 August, and culminated in a film which was available from 10pm for just one hour on the anniversary date.
The LIGHTS OUT project was inspired by the words of wartime foreign secretary Sir Edward Grey on the eve of war.
LIGHTS OUT was commissioned by 14-18 NOW and The Space.
LIGHTS OUT
The work was commissioned as part of a dramatic UK-wide event to mark the centenary of the outbreak of war in the UK.
Jeremy Deller
Jeremy Deller is an English conceptual, video and installation artist.