Crime & Young Offenders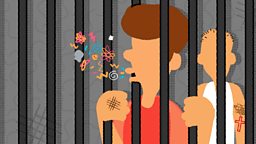 How old, or young, do you have to be to be classed as a young offender? Find out here, plus info on ASBOs and getting back on the straight and narrow...
Anti-social behaviour includes vandalism, graffiti and intimidation
Who are young offenders?
If you're aged 10-17 and have committed an offence, you're a young offender.
Do young offenders go to prison?
It's always a last resort. The main custodial (prison) sentence for 12 to 17-year olds is the Detention and Training Order (DTO), which lasts from four months to two years. It combines time in prison with time in the community under supervision of a youth offending officer. Each local authority has a youth offending team (YOT) or youth offending service (YOS) who are a team of people who work with children to prevent them offending or re-offending. YOTs supervise children on youth sentences and following their release from youth detention on licence.
And if not prison?
If it's a first court trial and you plead guilty, you could be given a Referral Order, where you have to meet with a panel to agree a contract to repair any harm done and stop you doing it again.
There's also community service, especially if you're 16 or 17. This could be anything from picking up litter to cleaning grafitti off a wall.
And then there's the ASBO, the Anti-Social Behaviour Order...
Anti-Social Behaviour
Anti-social behaviour includes vandalism, graffiti and intimidation.
The first step, if you're an anti-social offender, is an Acceptable Behaviour Contract (ABC). This is a voluntary signed agreement ('voluntary' meaning it's not given out by the courts and you won't get a criminal record). By signing the agreement, you agree to stop the anti-social behaviour.
If you've committed a number of anti-social behaviour offences, you could get an ASBO. This is a court order that can stop you going to a certain area or spending time with certain people. If you get an ASBO you won't get a criminal record unless you're found guilty of breaking the order.
Do I get a second chance?
If you've been in trouble with the law but want to get back on the straight and narrow, it can be difficult. Being tempted back into crime, not being able to get a job, not having enough money, family problems and staying away from drink and drugs are some of the problems people can face when trying to turn their lives around. But it can be done, and if you do it won't stop you achieving everything you want to when you're older.
For more advice and information, head to The Prince's Trust, Nacro or Youth at Risk.
BBC Advice factfiles are here to help young people with a broad range of issues. They're based on advice from medical professionals, government bodies, charities and other relevant groups. Follow the links for more advice from these organisations.