The Fourth Dimension
The Macra Terror
VISION AND SOUND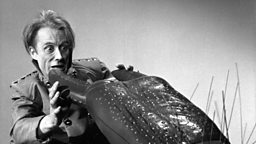 A brand new title sequence, designed by Bernard Lodge, was used from this story onwards. The new titles were not dissimilar than the previous version but this time included the Doctor's face.
A CHANGE OF FACE
Chicki, one of the human colonists, appears in Episode 1 and is played by Sandra Bryant. However, when the character returns in Episode 4, she is played by Karol Keyes. The reason for this change was because Sandra Bryant asked to be released from her contract to allow her to accept the offer of a better part in another production.
FEELING THE PINCH
The Macra are giant crab-like beings that live beneath the surface of the planet and thrive on a mineral gas. They have giant claws which they use to grab their human servants. The Doctor would encounter the Macra once again (this time on New Earth) in the 2007 adventure, Gridlock.
MAKING A MACRA
The construction of the full size Macra, which was as big as a family car, was handled by Shawcraft, the company responsible for creating many of the series' monsters and machines up to this point. The Macra cost £500, a fortune in 1967 for a show with only a small budget.
PILOT EPISODE
Peter Jeffrey - a well-known face to British audiences - was cast as the pilot. Jeffrey would play leading roles in a great many British movies and TV series, including several horror movies such as the Doctor Phibes films. He would be back for another Doctor Who as the scheming Count Grendel in The Androids of Tara.
MACRA MUSIC
Most of the music for The Macra Terror was composed by Dudley Simpson and realised by Brian Hodgson. Delia Derbyshire, who had created the distinctive sound of the Doctor Who theme music, was responsible for the realisation of the 'Chromophone' band that that colonists perform to. The music used to represent the hypnotising of the humans was by John Baker and had previously been used for an episode of Out of the Unknown called Time in Advance.
WORKING TITLES
Before settling on The Macra Terror, titles considered for this story were The Spidermen, The Insect-Men and The Macra.
INSECT MENACE
The original idea for this story was to have monsters that were similar to spiders or insects. This concept later evolved into the Macra appearing to be giant crabs, mainly thanks to their giant pincers. However, some references to the creatures being insect-like still remain in the dialogue.
VIDEO AND AUDIO
Although all four episodes of The Macra Terror are missing from the BBC's archives, a few clips do survive and can be seen on the DVD box set, Lost in Time released in 2004. The full audio soundtrack, with linking narration from Colin Baker, has been released on CD and for MP3 download by BBC Audio.