5 reasons why Dickens and his Victorian fans would love Dickensian
Holly Furneaux explains why the show would find fans among a Victorian audience.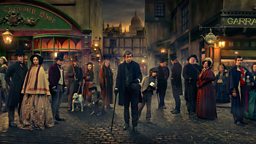 Holly is Professor of English Literature at Cardiff University and was the literary advisor for Dickensian. An expert in Victorian literature and culture, her books include Queer Dickens: Erotics, Families Masculinities (Oxford University Press) and Dickens in Context (Cambridge University Press). She has also edited John Forster's biography of Dickens (Sterling).
With the Dickensian team, Holly has been ensuring that Dickens would still recognise his creations. Characters are moved into new settings and new plots - but remain true to their original characterisation.
Favourite Dickens/Dickensian character: Inspector Bucket, for his navigation of tough professionalism and caring humanity.
Favourite setting: Mr Venus's taxidermy shop - great combination of the cosy and macabre.
Favourite Dickens novel: Our Mutual Friend, with Bleak House and Great Expectations close behind.
1. Dickens reanimated his own characters in his writing
Faced with low sales for his new periodical Master Humphrey's Clock, Dickens brought back the iconic characters of his first novel, The Pickwick Papers.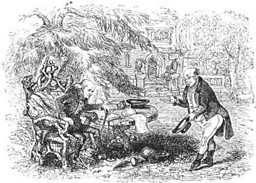 Image courtesy of The Charles Dickens Museum
This original illustration (on the right) shows the meeting of Mr Pickwick and Master Humphrey. Sam Weller and his father Tony also made appearances.
2. Dickens translated his characters into other media
...performing them in public readings of his work.
Dickens's daughter Mamie recalled him acting out his characters in the mirror while writing, and in public readings - a major feature of Dickens's later career - he combined his life-long love of theatre, audience, acting and writing to electrify the public.
A Christmas Carol, Sairey Gamp, and Bill Sikes killing Nancy all featured in readings. Some believe that Dickens shortened his life with his vigorous performance of this bludgeoning scene - he smashed into his reading desk so forcefully that the marks of his ring can be seen on it.
3. Characters went beyond the pages in which they appeared
Many readers from Dickens's time described key people in their lives in terms of Dickens characters. One Victorian went so far as to fall in love with a heroine from David Copperfield, turning all real women down as a result.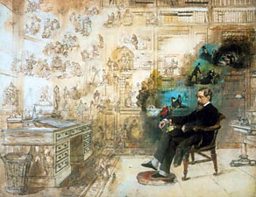 Image courtesy of the Charles Dickens Museum
Robert Buss's 'The Dickens Dream' - painted shortly after the author's death - is the most famous of many Victorian visualisations of a Dickens mash up. The picture can be seen here on the right.
4. Dickens's readers imagined new plot lines for characters
Most of Dickens's fiction was published in weekly or monthly parts leaving plenty of time for readers to dwell on - with Dickens's characters often left on a cliff hanger. Some Victorian commentators worried that serial fiction created obsessions, as readers followed a novel over long periods of time, often more than a year.
5. Dickens loved counterfactuals
Dickens characters frequently pause to consider the differences one small change would have made to their life stories - a very Dickensian preoccupation.
Dickens has Pip put it brilliantly in Great Expectations:
"That was a memorable day to me, for it made great changes in me. but, it is the same with any life. Imagine one selected day struck out of it, and think how different its course would have been. Pause you who read this, and think for a moment of the long chain of iron or gold, of thorns or flowers, that would never have bound you, but for the formation of the first link on one memorable day."