Tamzin Outhwaite: "I like the fact she's getting her mojo back"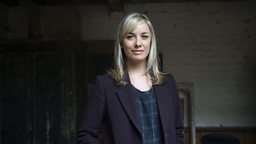 Tamzin Outhwaite is DCI Sasha Miller – trained in the Kidnap Unit, DCI Miller is firm, feisty and fair with an inclusive and modern management style
How would you describe your character?
Quite no nonsense and quite straight forward, also much more vulnerable than you'd expect and quite comfortable in male company. She's been leading high-level teams in a much more intense and dangerous environment, but what she's found in this team of people is a very comfortable unit, which personally she finds a lot more stable.
What do you like about your character?
I like her a lot. I like the fact she got a great connection with the team, she has a respect for all three characters and the amount of hours they put in. I love that she has that respect for them and she doesn't undermine them. She feels everyone has a place in the team and I like the fact she's had a lot of heartache and now she's getting her mojo back and is going to have some fun again.
What attracted you to the role?
I like the realism of New Tricks, the idea that all of this is really possible. I have quite an inquisitive nature, so I'd be interested in doing a job like this in real life. I'm quite passionate about finding out about things and I'm really direct and nosy. I thought I could do this and it would suit me.
Did you have to do any research?
I shadowed a DCI in Manchester a few years ago for another series, so used the research from that. It was really interesting to see what a real female DCI is like, how her team treated her and what she was interested in. The other thing I didn't expect was how much she cared about clothes. There's definitely a suit of armour you want to put on and it helps in that role. It was really important to have a well cut suit, impeccable shoes, which I didn't expect, you'd expect something much more practical.
What does Sasha Miller bring to dynamic of the team?
I think she likes to have a laugh with them and wants them to have a good time, and she gives as good as she gets, she takes the mickey out of them. But I don't think she's scared to show her vulnerable side, just because she's the boss. I think they're very protective of her, particularly Danny (Nicholas Lyndhurst). I think that's quite a nice element that Sasha brings to the team, she's tough when she needs to be, but doesn't go around barking orders.
What do you think the appeal of the series is?
I think the audience seem to love all the different characters and the camaraderie. They know we're police and we're trying to solve an unsolved crime, so you're saving the day somehow. But we're quite ordinary characters; we're not hotshot cops with guns. I think it makes people comfortable that we're people you might know or see on the street. But I think it's the banter and the way they are with each other, and I really love that element.