Dunks, Pumps and Yeezys: How sneakers changed the world
15 November 2018
Once reserved for sports pursuits, since the 1960s sneakers have conquered the worlds of music and fashion to become a billion-dollar industry. From the Adidas Superstar to checkerboard Vans and Nike Air Jordans, we look at the stories behind seven iconic pairs of trainers.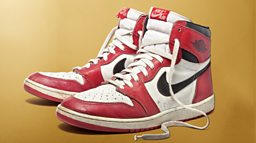 Jordan I 'Chicago', 1985 | Photo: © Sneaker Freaker
Launched in 2002, Sneaker Freaker was the world's first magazine dedicated to the cult of sneakers. It started as the pet project of Simon 'Woody' Wood. In his new project, The Ultimate Sneaker Book, he says: "My motivation was pretty simple. I wanted Nike and Adidas to send me free shoes. Loads of free shoes. Enough to fill a FedEx truck! And I wanted that truck to come back every month with more boxes to add to my stash."
Woody found he wasn't alone in his devotion to sneakers: hundreds turned up to the magazine launch and logged into the forum to talk footwear. He discovered other amateur sneaker heads were plotting professional transitions. Soon the sense of a globally connected community of sneaker lovers was plausible, and the scene rapidly mutated.
He says: "Limited editions, collaborations, samples, Japan-only editions, knockoffs, deadstock, vintage, customs, one-of-ones, artist collabs, retailer tie-ins, player-protos and retro reissues – there was so much newness to absorb. Soon enough, every brand had identified this new breed of 'sneakerhead' as a highly lucrative demographic."
The Ultimate Sneaker Book sets out to recount "every sneaker story worth telling". Here we pick seven. (All images courtesy of TASCHEN.)
Soon enough, every brand had identified this new breed of 'sneakerhead' as a highly lucrative demographic

Simon 'Woody' Wood
Nike Dunk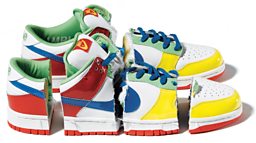 The 'eBay' Dunk, 2003 | Photo: © Nike Archive
Nike employee Sandy Bodecker was tasked with establishing the brand's skate division, known as Nike SB, which fast became a collectors' favourite.
The Holy Grail of SB collecting, the 'eBay' Dunk, was auctioned off for charity in 2003 for a winning bid of $26,000. The anonymous winner received a pair in their size, while the original, and only, sample was destroyed with a chainsaw live at the trade event.
Reebok Pump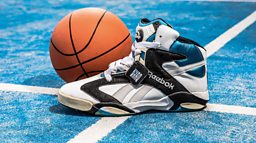 The Shaq Attaq promo was made to match Orlando Magic's seven-foot-one player Shaquille O'Neal's size 20 feet, 1993 | Photo: © Dan Purnell; Sneaker Freaker
"Ask any kid from the early 90s and they'll all tell you the same thing – Reebok Pumps were the absolute business," says Woody. "The inflatable widget is still the most ingenious gimmick in the history of footwear."
The concept behind these shoes was simple: Reebok Pump would use inflatable chambers that pump up for a custom fit. No two feet are alike and the customisation of inflating and deflating the shoes was hugely appealing.
Reebok recruited a host of basketball players to wear the shoes. In February 1991 Boston Celtics player Dee Brown took on Seattle SuperSonics Shawn Kemp in the NBA Slam Dunk Contest. Dee opted to pump up his Reebok Omni Zone IIs on court in front of a global audience before unleashing the now legendary 'No-Look Dunk' as a finale.
Woody says: "By treating the shoes as an accessory to his win in the name of showmanship, Dee became the Pump's own action hero."
Adidas Superstar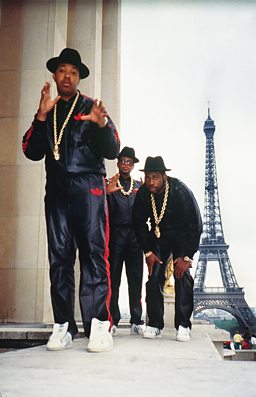 Run-DMC in Paris, 1987 | Photo: © Ricky Powell
"Universally loved in all four corners of the globe, the Superstar is one of those rare sneakers that transcends class and creed," says Woody. German firm Adidas launched the Superstar in 1970 as basketball shoe, but in the 80s it moved into the realm of urban fashion.
The shoe's raw aesthetic and b-boy resilience, along with the prestige of being a European brand, made it popular among the hip hop scene in NYC. Woody says: "In the South Bronx, the pioneers and party starters of the era were wearing Superstars and giving them a street credibility that Adidas never envisaged or actively encouraged."
Among the shoes' biggest fans were Queens hip hop group Run-DMC. The group included a tribute to their favourite kicks, titled My Adidas, on the bestselling Raising Hell LP. When performing the song live at Madison Square Garden they encouraged fans to hold their Adidas shoes up.
Suitably persuaded, Adidas signed the hip hop group in an endorsement deal worth $1 million and released an entire Run-DMC line of trainers.
Nike Mag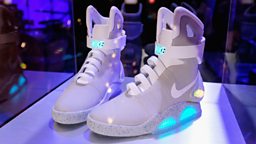 Nike Mag | Photo: Nicholas Hunt/MJF2016/Getty Images
"When news officially broke that Nike would release the shoes worn by Marty McFly in Back to the Future II, hardcore nerdburgers, film buffs and sneakerheads lost their minds," says Sneaker Freaker contributor Matt Williams.
A total of 1,500 pairs, known as Nike Mags, were sold in an eBay auction to raise funds for the Michael J. Fox Foundation and Parkinson's research.
The shoes came labelled with 'Magnetic Anti Gravity' tags and included designer Tinker Hatfield's illustrated instructions, a metal licence plate with a unique serial code and a DVD with the Back to the Future II trailer. A total of $4.7 million was raised, making it the largest charity auction of all time.
A further 10 pairs were sold at Nike events and this edition came inside a yellow road-case designed to look like the plutonium containment chamber in the original film. Auctioned in Hollywood, rapper Tinie Tempah paid $37,500 to take them home.
Michael Jordan's Air Jordan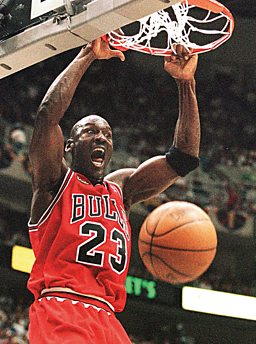 Michael Jordan during a match in Salt Lake City, 1998 | Photo: JEFF HAYNES/AFP/Getty Images
"Michael Jordan's signature shoe deal with Nike is arguably the most historic moment in sneaker history," says Woody. "From the cultish love of the number 23 to the iconic 'Chicago Bulls' colour combo, the superstar athlete sparked a 34-years-and-counting footwear phenomenon. For many sneakerheads, Air Jordan is the only brand in the game."
Nike signed Michael Jordan in 1984 for $500,000 per year, though fine print stipulated Nike could walk away if sales didn't reach the ambitious total of $4 million by the end of the third year. Just two months after the first Jordan shoe was released they had made $70 million in sales.
Vans checkerboard slip-on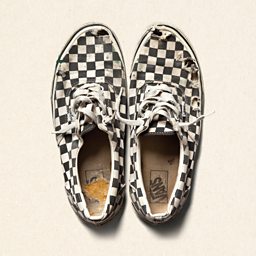 Checkerboard Vans, 1997 | Photo: © Dan Purnell; Sneaker Freaker
The checkerboard slip-on is probably the most recognised of all Vans' styles. In the late 70s the company owner's son Steve Van Doren, who was just out of high school, noticed kids were colouring in their Vans with a checkerboard pattern. So they started making shoes with that design.
Vans sent a box to the film Fast Times at Ridgemont High. Not only did Sean Penn's character hit himself over the head with the shoes but they featured on the cover of the film's soundtrack. After the film came out Vans sold millions of pairs.
Kanye West's Air Yeezy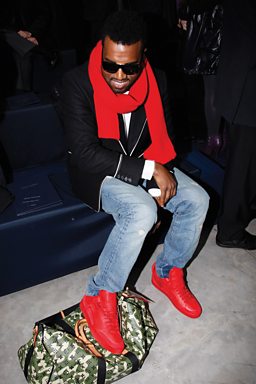 Kanye West wearing Louis Vuitton shoes he designed at the Louis Vuitton fashion show during Paris Fashion Week, 2009 | Photo: Michel Dufour/Wireimage/Getty Images
Kanye West has collaborated with BAPE, Reebok, Louis Vuitton, Nike and Adidas, but it's his 2009 rookie Nike design, Air Yeezy, that is regarded as the one that truly kick-started his sneaker empire.

Sneaker Freaker contributor Anthony Costa says: "With its knee-scraping ankle padding, pillowy tongue and mammoth Velcro wrap, there was nothing subtle – or sporty – about the Yeezy steez. It was the ultimate symbol of cockily manicured excess."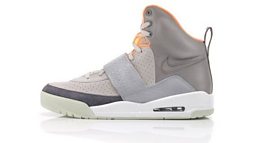 The 2009 Air Yeezy | Photo: Sneaker News/Nike
Three years late the Air Yeezy sequel arrived. A rumour started that the shoe would release at House of Hoops in Beverly Hills. There wasn't a definite release date but people started camping out.
When a release date five weeks away was announced, rather than go home and lose their space, most Yeezy fans bunkered down to wait out the weeks.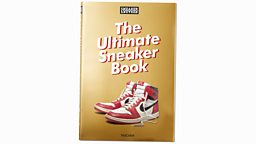 The Ultimate Sneaker Book is published by TASCHEN