GQT on location
How can I attend a recording of GQT?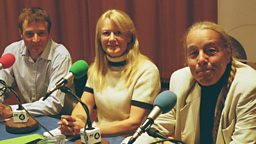 It's likely that GQT will be in your area at some point during the year. The programmes are hosted by various groups, mainly gardening clubs and horticultural societies,and it's the group which invites the programme that is responsible for the distribution of the tickets. Although groups tend to give the tickets to their own members first there's usually enough space to include non-members
Future recordings
Monday 9th February 2015
Galleywood
The recording takes place at:
Keene Hall,
Watchouse Road,
Chelmsford,
Essex,
CM2 82P.
Doors open at 5.30pm. Recording starts at 6.30pm.
Hosted by Galleywood Horticultural Society
Tickets are £3 and are available from the society's secretary,
Mrs Sarah Walters on 01245 473191.
Monday 16th February 2015
Preston
The recoding will take place at:
Whitechapel Village Hall,
Church Lane,
Preston,
Lancashire,
PR3 2EX.
Doors open at 5.30pm. Recording starts at 6.30pm.
Hosted by the Whitechapel Village Hall
Tickets are £4.50 and can be collected from Lower Barnsfold,
Back Lane, Goosnargh Preston, PR3 2WE.
Call Judith Meredith on 01995 640504.
Monday 23rd February 2015
Warwickshire
The recording will take place at:
Stratford ArtsHouse
14 Rother Street,
Stratford-upon-Avon,
Warwickshire,
CV37 6LU.
Doors open at 5.30pm. Recording starts at 6.30pm.
Hosted by Wellesbourne Village
Tickets are £4.50 and be bought from the ArtsHouse box office on
01789 207100, online via http://stratfordartshouse.co.uk or by email
Monday 16th March 2015
Newcastle
The recording will take place at:
Live Theatre,
Broad Chare,
Quayside,
Newcastle upon Tyne,
Tyne and Wear,
NE1 3DQ.
Doors 5.30pm. Recording starts 6.30pm.
Hosted by Greening Wingrove CIC
Tickets are £4.50. Call Live Theatre's box office on (0191) 232 1232
Do we have to be a gardening club?
Not at all. GQT visits all sorts of groups. We have recorded programmes in a prison, on a London Underground Station, in zoos, schools and even at a naturist club. Not all gardeners belong to a gardening club and we'll go wherever there are keen gardeners.
Would you like to host GQT?
If you and the people you garden with would like to host a recording of GQT please fill in the form below and return by email or post.
GQT Application Form (doc) (421 KB)
GQT Application Form (rtf) (3216 KB)
The application form is available as a Microsoft Word document or RTF file. Information and help about downloading files and different file types is available from BBC Webwise.
Send completed applications to:
Gardeners' Question Time
PO Box 65607
London
N1P 1RU
Email - hostgqt@somethinelse.com
Please read the following before sending your application.
The BBC promises that you will NOT receive unsolicited mail by supplying your personal details.
The personal information you provide will be held by the BBC and by Somethin' Else, the independent production company which makes Gardeners´ Question Time. Your information will be used for the purpose of creating the Gardeners´ Question Time programme, and will be processed in accordance with the Data Protection Act 1998.
For full details of our policy regarding the personal information we collect about you visit our Privacy & Cookies page.