GQT on location
How can I attend a recording of GQT?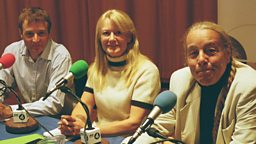 It's likely that GQT will be in your area at some point during the year. The programmes are hosted by various groups, mainly gardening clubs and horticultural societies,and it's the group which invites the programme that is responsible for the distribution of the tickets. Although groups tend to give the tickets to their own members first there's usually enough space to include non-members.
Future recordings:

Wednesday 27th June
Leicester Space Centre
Exploration Drive,
Leicester
LE4 5NS
Doors at 5:30pm, Recording at 6:30pm.
Tickets available here: https://spacecentre.co.uk/event/bbc-gardeners-question-time/
Do we have to be a gardening club?
Not at all. GQT visits all sorts of groups. We have recorded programmes in a prison, on a London Underground Station, in zoos, schools and even at a naturist club. Not all gardeners belong to a gardening club and we'll go wherever there are keen gardeners.
Would you like to host GQT?
If you and the people you garden with would like to host a recording of GQT please fill in the form below and return by email or post.
GQT Application Form (rtf) (11,232KB)
GQT Application Form (pdf) (247 KB)
The application form is available as a Microsoft Word document or RTF file. Information and help about downloading files and different file types is available from BBC Webwise.
Send completed applications to:
Gardeners' Question Time
PO Box 65607
London
N1P 1RU
Email - hostgqt@somethinelse.com
Please read the following before sending your application
The BBC promises that you will NOT receive unsolicited mail by supplying your personal details.
The personal information you provide will be held by the BBC and by Somethin' Else, the independent production company which makes Gardeners´ Question Time. Your information will be used for the purpose of creating the Gardeners´ Question Time programme, and will be processed in accordance with the Data Protection Act 1998.
For full details of our policy regarding the personal information we collect about you visit our Privacy & Cookies page.