Main content
Symphony No. 1 in G major – Allegro by Joseph Bologne, Chevalier de Saint-Georges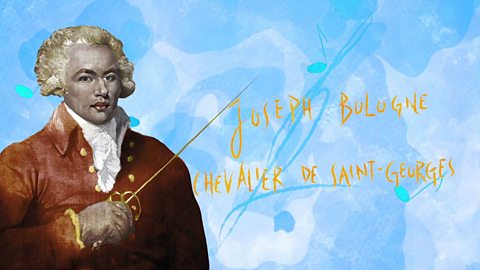 Naomi Wilkinson explores the music of Saint-Georges using facts, insight and animation.
Behind this classical symphony is an extraordinary story of a composer who took Paris by storm.
A contemporary of Mozart's, Saint-Georges became a champion fencer, virtuoso violinist, and a famous composer and conductor. His hands wielded the foil, the bow and made music with equal skill!
Allegro (which means play at a lively speed) is the first movement from this symphony, which premiered in 1779.
Listen out for: The fast and intricate violin parts. Saint-Georges was one of the best violinists of his time and wrote complex music to show off his skills!

Watch the introduction film at the top of the page then starting exploring the music:
Watch the full performance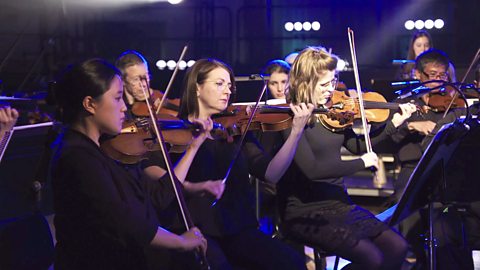 Watch the full performance of Saint-Georges' piece by the BBC Symphony Orchestra.
About the composer
JOSEPH BOLOGNE, CHEVALIER DE SAINT-GEORGES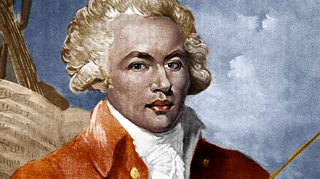 BORN: 1745 / DIED: 1799 / NATIONALITY: French
Aside from being a champion fencer and a virtuoso violinist and conductor, Saint-Georges has the distinction of being the first classical composer of African ancestry. His parents were a wealthy slave owner on a plantation in the West Indies and a slave - many elements of Saint-Georges' life would make a great movie plot! So little is known of his musical training, that several myths have grown up around it. We do know that he eventually became the leader of a very good Parisian orchestra and performed his concertos with them, improvising solos at several points and wowing the audience. His appearances with this orchestra led to it being declared the best in France. Saint-Georges wrote two symphonies, several concertos, much chamber music and at least 6 operas. He pursued both fencing and music throughout his life, and towards the end of his life finally admitted that music was his true love.