BBC Fresh Profile: Alex Ash
Filmmaker Alex Ash explains why he focused on boxing for his BBC Fresh documentary.
Alex says he was intrigued by the "mutually beneficial" relationship at play between his main contributors.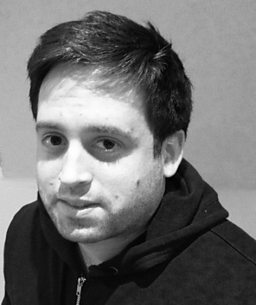 How did you get started in documentary filmmaking?
I was fortunate enough to have documentary director Paul Watson as a tutor at university for one term. His insight started my passion for docs as I realised making films about real people was much more fascinating than drama.
Why did you pick this subject for Fresh?
I've seen many films where the elder character hands down his wisdom to help the younger character get his life on track. What fascinated me about this story was that Bobby and Brian's relationship was mutually beneficial.
What motivated you to make this film?
I met Bobby a few years ago and his stories fascinated me. As Brian's boxing career developed I realised there was story about their relationship I had to document.
What camera did you use to shoot your film?
Canon XF305.
Who/what inspires you?
The Underdog. I'm continually amazed and inspired by people who achieve things when everyone else said they wouldn't.
What are your plans for the future?
I am currently developing two feature length documentaries and maybe one day I could direct a Fresh for BBC Three!
What is the most important thing you have learned so far?
Definitely gaining the trust of your contributors. Once you have this you have access to their world enabling you tell the most engrossing story possible.