Jessica Regan Interview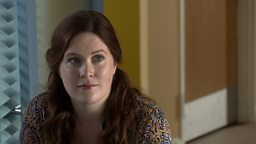 Letherbridge newbie Jessica Regan joins Doctors!
What was your first day in Letherbridge like?
I was so nervous in the weeks leading up to it, but once I was on set with the actors and crew I felt at ease quickly. Everyone was so welcoming. Of course I only had a few scenes, so it was a gentle start - mercifully!
What's your favourite thing, so far, about working on Doctors?
My favourite thing about Doctors is the number and range of actors you get to work with because of the 'story of the day'. As each episode has its own unique plotline there is a huge turnover of actors on Doctors. In one of my favourite storylines so far I was working with a 21 year-old male actor and an 81 year old female actor. I really enjoy that diversity.
What do you like best about playing Niamh?
It's her vulnerability. She worries she's not up to the job, she is sometimes very lonely despite her friendly front and wise-crackery. I felt a lot like that in my twenties when I first came over to the UK, so that's a story I feel I know how to tell.
Tell us about Niamh's strengths and weaknesses?
One of her strengths is that she is very non-judgemental with patients and colleagues alike. She really does want to help and has a very caring, warm nature.
Niamh's weaknesses are that there are some gaps to her medical knowledge. Sometimes she owns up and asks for help; sometimes she unwisely covers up when she should ask for help. In her need to make things right she can go on solo missions. One person's maverick is another's liability, so it will be interesting to see how things unfold during her time at The Mill.
What can we look forward to with Niamh?
I think she will be bringing quite a different energy to The Mill. Niamh doesn't hold back. She is frank, funny and direct. She doesn't care much about the politics of The Mill or appearances. But her warmth and seeming confidence mask a lot. All is not quite right with Niamh...
Any upcoming storylines to get excited about?
Am I allowed to mention a slow-burning will-they-won't-they love story with someone at The Mill? As well as one story involving three teenage boys that takes some very dark and dramatic turns.
Doctors Notes
Interviews, musings and other extras from Doctors.
What does David think the future holds for Barry after being jilted at the altar?

He plays fast talking Dr Sid Vere, but how will he fare against our quick fire round?

Is Ian as quick witted as his character Al, find out with his quick fire questions!

Let's see how The Mills' midwife handles the 'quick delivery' of these questions!

The Mills newest resident answers some tough quick fire questions!

We talked to Peter Lloyd, Series Producer, to get the low-down on today's shocking developments.

We caught up with the actor and director to talk about directing for a fourth time...

Matthew discusses the challenges of directing Doctors for the third time!

Series Producer and Writer Peter Eryl Lloyd gives an account of the writing challenges behind Doctors' special two parter: 'Austenland'.

Actor Janet Dibley who played Elaine Cassidy in Doctors for two years has just written her first episode!

Doctors Series producer Peter Lloyd's final instalment explains the process behind creating a truly great character.

Doctors Series Producer Peter Lloyd explains the inspiration behind the character names in Doctors.

The musings of Doctors Series Producer on the perils of finding the best actor for the role.

Doctors Series Producer Peter Lloyd mourns the departure of some of his favourite Doctors actors.