Glastonbury Ticket Competition 2014
Glastonbury Festival Competition is now CLOSED
Thank you for entering BBC Asian Network's Hospitality tickets to the Glastonbury Festival. This competition is now closed.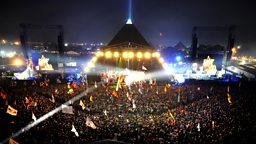 Glastonbury Festival
Glastonbury is the largest greenfield music and performing arts festival in the world.
Terms and Conditions
The competition is open to all residents of the UK, including the Channel Islands and the Isle of Man, aged 16 or over except BBC employees, their close relatives or anyone connected with the competition. Proof of identity and eligibility may be required.
From 21:00 on Friday 13th June until 23:59 on the Thursday 19th June BBC Asian Network is giving away a prize of a pair of Hospitality tickets to the Glastonbury Festival.
You can only enter by texting the word 'ASIAN' followed by your answer A, B or C to 81869 in response to the question read out on air. Texts will be charged at your standard message rate. No other method of entry will be accepted. Only one entry is allowed per mobile number.
If you enter either before the opening time or after the closing time specified above your entry will not be accepted but you may still be charged.
After the registration period has closed 20 correct entrants will be randomly selected, they will be called back on the 20th June to be auditioned and two people will go through to the knock out final on Yasser's show for the chance to win the tickets on the 20th June.
The prize will be a pair of Hospitality Tickets for the 2014 Glastonbury Festival. These tickets provide entrance to the 2014 festival, as well as exclusive access to a special hospitality area between the Pyramid and Other Stage; and access to the 'Hospitality Camping Field', subject to space being available.
Please note, the ticket holders name is included on the ticket and you will be expected to carry photo ID which matches this name at all time. Tickets are strictly non-transferable. Please also note the ticket/prize does not include a car parking pass. For more information visit http://www.bbc.co.uk/glastonbury/. For the avoidance of doubt, the prize does not include Travel or any other expenses. Tickets are subject to the Event's Terms and Conditions. By accepting the prize the winners accept and agree to be bound by these Terms and Conditions, which can be found at http://www.glastonburyfestivals.co.uk/information/tickets/2013-ticket-info#tandcs
The BBC's decision as to entrants taking part and winners is final. No correspondence relating to the competition will be entered into.
Entrants agree to take part in any post-competition publicity if required. The names of winners will be made public.
Your name, telephone number, email address and any other personal details will be handled by the BBC in accordance with the Data Protection Act 1998. The BBC will only ever use your personal details for the purposes of administering this competition. Your personal details will only be kept for as long as necessary to fulfil these purposes. Please see the BBC's Privacy Policy: http://www.bbc.co.uk/privacy/
This competition is conducted in line with the BBC's code of conduct for competitions, which can be found on
http://www.bbc.co.uk/guidelines/editorialguidelines/advice/interactivity/code/.
The BBC reserves the right to: (i) amend these terms and conditions and vary the competition rules including but not limited to shows included, opening and closing times; (ii) disqualify any entrant who breaches the rules or has acted fraudulently in any way; (iii) exclude ticket holders from the event if the Event terms and conditions are breached in any way - for full terms see http://www.glastonburyfestivals.co.uk/information/tickets/2014-ticket-info#tandcs and; (iv) cancel the competition, at any stage, if in its opinion it is deemed necessary or if circumstances arise outside its control.
The BBC, their sub-contractors, subsidiaries and/or agencies cannot accept any responsibility whatsoever for any technical failure or malfunction or any other problem with any server, system, network or mobile operator or service provider or otherwise which may result in any registration not being properly logged or not recorded.
Entrants will be deemed to have accepted these rules and to agree to be bound by them when entering this competition.
The competition is run by the BBC. The applicable law is that of England and Wales.