Running order: Thursday 19 October
BBC Arts Digital, in collaboration with eight of the UK's leading opera companies, presents a day of live streaming taking you behind the scenes to explore and demystify the most emotional, dramatic, seductive and all-encompassing art form of all: opera! Here's what's happening...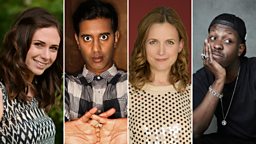 Presenters Lindsey Chapman, Nihal, Katie Derham and Jamal Edwards
11:00
Join Katie Derham and curator Kate Bailey at the Victoria and Albert Museum in London for a walk around the landmark exhibition Opera: Passion, Power & Politics.
11:15
From Manchester's Museum of Science and Industry, the BBC Tomorrow's World team perform a live experiment to find out just how loud an opera singer can sing.
11:30
DJ Nihal discusses the joy of opera from the Royal Opera House with guests including George the Poet, plus sword fighting with Erwin Schrott and music from Lisette Oropesa who makes her debut in the title role of Lucia di Lammermoor later this month.
12:30
At Glyndebourne, Alexandra Coghlan explores how music can convey the emotion of a story, illustrated by extracts from Brett Dean's operatic version of Hamlet, which premiered at the Sussex opera house earlier this year, and Shakespeare's unadorned words performed by Samuel West.
13:00
Opera North present Opera in a Nutshell, live from Dock 29 in Leeds, featuring extracts from Tosca, Carmen, The Magic Flute and La Traviata plus music by Bernstein, Lehár, Ravel and Gounod.
13:45
In their second experiment of the day from Manchester, Tomorrow's World find out whether an operatic soprano really can shatter glass using just her voice.
14:00
From the Isle of Islay in the Inner Hebrides, Scottish Opera present live performances of arias from The Pearl Fishers, The Coronation of Poppea and The Gondoliers.
14:30
We return to the V&A to chat to one of the UK's favourite sopranos, Lesley Garrett, and see her exclusive performance of the enchanting Song to the Moon from Dvorak's opera Rusalka.
14:45
Welsh National Opera are appearing tonight in Southampton and, live from the Central Baptist Church, the WNO Chorus perform extracts from Die Fledermaus by Johann Strauss II. You can put yourself in the middle of the chorus by watching and listening in 360⁰ via Facebook.
15:00
English Touring Opera reveal in a series of films how their current shows - Rameau's Dardanus and Handel's Giulio Cesare - were created and present a song from their children's opera Bessie's Wings performed live by children from South London primary schools.
15:45
Live from the Teatro Real in Madrid, General Director Ignacio García-Belenguer explains how he's opening up Spain's leading opera house to new and younger audiences.
16:00
BBC Radio Ulster's The Arts Show, presented by Marie-Louise Muir, goes behind the scenes of Northern Ireland Opera's production of Mozart's Cosi Fan Tutte in Belfast's Grand Opera House to see how opera has become a vital part of the city's cultural make-up.
16:30
Back in Manchester, Tomorrow's World's final experiment aims to reveal how the human body responds to live opera. Volunteers from the audience will be wired up while a soprano and a baritone sing two different arias and the team analyse the results.
16:45
Joan Matabosch, Artistic Director of Madrid's Teatro Real, marks the theatre's 200th anniversary by discussing its past achievements, contemporary challenges and the future of opera.
17:00
Backstage at the London Coliseum, Jamal Edwards, grime impresario and founder of SB.TV, joins English National Opera singers Eleanor Dennis and David Webb to meet the breadth of artistic talent working together to put on tonight's performance of Verdi's grandest opera, Aida.
18:05
We return to Southampton, this time to the Mayflower Theatre, for a live 'touch tour' of the set for WNO's production of Die Fledermaus. Touch tours enable blind and partially-sighted audience members to get to know what's on stage before the performance begins.
18:30
To round off this operatic marathon, members of the Royal Opera Chorus perform the Anvil Chorus from Il Trovatore and Va Pensiero from Nabucco, live at St Pancras International Station in London.
19:30
Switch to Radio 3 to hear a complete performance of an opera voted for by listeners: either Mozart's The Magic Flute, Gounod's Faust, Wagner's The Flying Dutchman or Puccini's Tosca, in a live recording from London's Royal Opera House. You can cast your vote here until 16:00.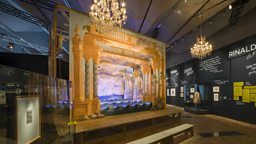 Opera: Passion, Power & Politics. © Victoria and Albert Museum, London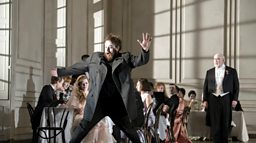 Allan Clayton in Glyndebourne's Hamlet. Photo: Richard Hubert Smith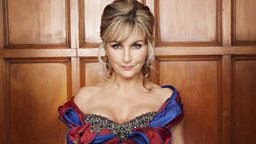 Lesley Garrett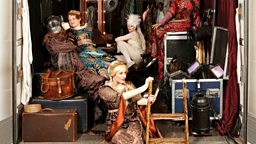 English Touring Opera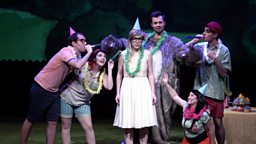 Dido y Eneas at Teatro Real. Photo: Javier del Real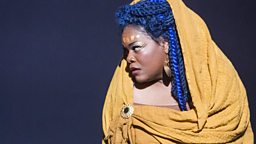 Latonia Moore in the ENO's Aida. Photo: Tristram Kenton